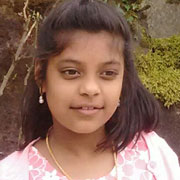 "Winning Isn't All!"
by
Pragathi Lakshmi Murthy,
is the
Highly Commended
story in the sub-junior category of the second biannual
International Short Story Contest 2017
which was organized by Kids World Fun.
Winning Isn't All!
Far away, where no man has ever set foot is a planet, billions and millions of miles away. This planet is a bit like Earth but instead it's full of aliens. Deep in this planet is an colorful and vibrant village called Bong, which is a miniature world like Earth. In a farm yard of this sensational village lives a girl alien called Mimi. She is eighteen and a half years (nine and a half alien years). Mimi is the second oldest child in her family. She has one elder brother named Nick, aged 11 years and a baby brother Jojo and a baby sister Jaja who are twins, aged 1 year. Mimi's favorite subject is singing and especially singing her favourite songs.
One day as she was walking back from school after a boring day, a poster brightened her day. It said,
All talented singers
Are you good enough to compose and sing your own song on the stage?
For more information go on music.com/aliencontest
This was her chance to show her singing skills! She quickly ran home with excitement. She freshened herself and had her favourite food, roasted cul (a round vegetable that grows in alien planet).Without wasting time she started composing a song. Her parents were wondering what she was doing for so long. After a few days she managed to compose her own song but she didn't have the perfect costume. She needed something that would make her stand out of the crowd. She thought "Great, I've always wanted to design and make a dress!"
Mimi played her composed song called "Don't give up!" Since the song was completed, she started to design her costume. She started by ripping up colourful musical shapes from her old clothes and found pieces of ribbon from her mum's handbags. She made a lovely rainbow ribbon to tie a bow and flowery diamonds to add the touch of sparkle. When she finished she had a final look, "What a beauty," she whispered to herself. She was ready now, just a little more practice.
Time was passing by and the day of the contest was getting closer. Day after day, she practiced and practiced. Finally, the day had come! All participants along with their family got to go to the theatre in a grand limousine arranged by the host. They were all welcomed by cheering crowds and went inside the theatre. Mimi went to the changing room to get dressed and put on her lovely make-up. When she was ready she waited anxiously for her turn with few other contestants. After a while, the host introduced Mimi to the stage. Mimi walked up to the stage shyly and when she saw the huge crowd she felt nervous. But when the music started, the rhythm filled her body with joy and happiness. When she finished the crowd was full of claps and cheers. She took a bow and walked back confidently to the backstage. Finally it was the time for the judges to make their decisions. All the participants were eagerly waiting for their results. The judges began to announce that "In third place is Jamie!" Claps came out in all directions. The bronze medal was given out and the prize of five thousand kiki's (that's five thousand pounds). Judges announced slowly and stretched out the words. "In second place is Mimi!" Claps arose from the audience. Her medal was a beautiful shiny silver with a rainbow ribbon that matched with her costume and as well as that she was given ten thousand kiki's (ten thousand pounds). "And in first place is Marisa!" she was gifted an elegant gold trophy, a golden medal and a hundred thousand kiki's to spend (hundred thousand pounds).
The limousine came and they set off to their comfy and cozy home. Mimi's mum, dad, brothers and sister were all impressed with Mimi's performance, so they decided to go to a fast food restaurant. When they got home, Mimi went upstairs to her room and recorded in her diary
Dear Dairy,
Although I didn't win this contest I surely enjoyed it by designing and making a dress to composing my own song and that was fun. Anyway, I got a lovely medal and ten thousand kiki's, well I can try again next year.