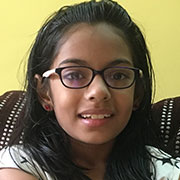 "The Golden Tooth"
by
Sattviki Panda,
is the
Second Prize
winning story in the sub-junior category of the second biannual
Short Story Contest 2017.
The Golden Tooth
Wow! We all enjoyed the dinner party .The food was delicious - brownie creamy cakes melting in the mouth, awesome chilled Chocó delight ice-creams. But in Anu's family of twenty teeth, one tooth – the right Premolar was unable to savour the sweets. She was upset to the core with severe pain. Everyone in the family pushed her to visit the doctor.
Next morning, Premolar visited the dentist. It was a nice clinic full of pictures of different teeth families. Dentist aunty came out with a smile. Premolar with pain said "Good Morning" and told her about the pain. Dentist aunty with her mouth mirror and probe started to examine the premolar.
"Oh, Stop, stop. It's hurting", cried Premolar. You are down with pain and infection. Have courage, nothing will happen. I will help you. Well, we'll go for a Pulpotomy, said she. In two or three sittings I will make you perfectly all right. Come tomorrow.
Premolar was damn scared thinking about Pulpotomy. She narrated her story to her friends- molar, incisor and canine. They all told her, you are brave enough to face it.
The next morning the dentist aunty started her treatment by touching, digging, pricking and scratching. The last session took a long time and placed a golden crown on premolar's top.
"It's over. Relax. See, now you are a "Golden Tooth". Take care of yourself. Don't eat chocolates and ice creams much. Follow the brushing rules- twice in a day. " said the dentist aunty.
Premolar peeped in the mirror. Really, dentist aunty had made her beautiful. Seeing herself in radiant golden brightness the Premolar felt herself on the top of the world. She was happy and thanked the dentist aunty profusely.
All her friends were happy, but she was feeling different. Every time she felt great when see look at herself in the mirror. She started feeling superior in the tooth family. She showed up her beauty with vanity. She stopped mingling with fellow mates as she was now pretty, bright and strong, often teasing them and laughing loud at them. However, she forgot to follow the doctor's rules. Enjoyed eating chocolates, ice-creams and relished all sticky sugary stuffs.
One fine morning she became helpless again with severe pain and rushed to the dentist aunty crying in pain. Seeing her dentist told her –"I cannot help you this time. To stop the pain the last option available will be an extraction." Asking her to wait she became busy with another case.
The golden tooth was shivering with miserable pain. Sitting there in deep sorrow, she started crying and realizing whatever she had done in the past was wrong. She was praying to God – "given a chance I will not repeat the same."
Moral :
1. Outer appearance does not matter; you should have inner beauty to shine.
2. Strong appearance and good look will not be permanent, your attitude and behaviour will give you desired dividend.
3. Don't spoil your teeth by munching a lot ice-cream, chocolates.