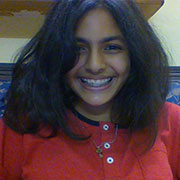 "The Boy"
by
Myrah Raj,
is the
Highly Commended
story in the junior category of the second biannual
International Short Story Contest 2017
which was organized by Kids World Fun.
The Boy
I sucked on my lollipop as I thought about how it would be to fall off from here. I was sitting on the railing of the balcony and this was the first time I had thought about falling.
A gust of wind blew and my long, curly, black hair flew around, covering my eyes so I couldn't see the Bombay sunset. This interrupted my thoughts; I pulled the hair into a bunch and tied them with a rubber band that was on my wrist, acting like a bracelet. This rubber band would multitask a lot. It was used as a rubber band, a bracelet, a pencil and pen holder, a stress reliever, an anklet, for packing, … ( let me take a breath)… to keep glasses arranged, to stop earphones from tangling…you get it, don't you?
Just then my aunt's dulcet tones replaced the silence. 'NIDHI! YOU IDIOTIC GIRL…'
My aunt adores children.
I knew better than to ignore her, so I clucked impatiently and sprinted down the stairs as she shrieked once again- 'NID-'
She stopped yelling her head off when she saw me, my hands on my waist, wearing a 'Why- would- you-disturb- me?' kind of look.
'You took your time!' she snapped and then pointed to the floor where there was a pool of water and a very intimidated Lhasa Apso, Fluffy. Little did I know what had happened.
'Look at what your dog has done!' said aunt Savitri 'and that too when there are guests about to come!'
'Who's coming?' I said
Savitri bua's frown became less pronounced and her voice turned a bit softer, but it hadn't lost its testy quality. 'My cousin, Priti.' She said 'and her son, Rahul, her husband couldn't come.'
I groaned. I hated relatives. They are always cribbing and cooing and…urgh!
'Don't groan!' said Savitri bua coming back to her normal self. 'Make yourself presentable, your jeans are torn, and isn't that a boy's t-shirt?'
I'm a total tomboy; I've never liked pink, liked Barbie dolls or watched princess films.
'Yes.' I said 'it's cool.'
'It's not,' said bua angrily, handing me a frilly, pink, frock 'Wear this.'
'No way!' I said.
The bell rang. Bua rushed to open the door. I heard Priti Bua's high pitched voice- 'It's been so long!'
'Yes! Nidhi! Priti has come.'
I picked fluffy up and went to the living room.
'Aha!' said Priti bua as Rahul looked thoroughly depressed. 'How much you've grown! You were so tiny!' she hugged me tightly.
'We all grow,' I said 'It's been 13 years after all; look, you have more white hair now,' I examined a strand of her hair.
For a moment she looked taken aback, then she laughed. 'Cheeky girl! You have a -'
'I'll come in a minute,' I said, I ran to the balcony, sat on the railing, using my rubber band as a stress reliever. I thought to myself: I hate Mom and Dad for leaving me here alone and going for that business trip.
Just then, I noticed that a boy, perhaps my age, was walking on the roof.
'Oi!' I yelled at him 'that's our roof you're walking on!'
He looked confused first, then he laughed. 'I keep forgetting that this is not my house now! Sorry!'
'This was your house?' I asked curiously.
'Yes.' said the boy, jumping into the balcony.
'Where do you live now?'
'Nearby, but this place is better.'
'I don't think.'
'You never like what you have. Samir Kandari.'
'Nidhi Sayan'
And then I plunged into a long conversation with a stranger. We talked for hours 'til-
'I gotta go.' Samir said.
'Why?' I said, disappointed.
'I must. Nice talking to you. Bye.'
'Bye.' I said sadly 'Come again!'
He stared at me. 'You mean it?'
'Yes,'
He grinned widely and walked across the roof, then disappeared into a banyan tree.
When I came downstairs, Priti bua announced that she would be staying here for the night.
'Where were you?' asked Savitri bua.
'Just had a chat with my friend,' I said.
After that, we kept meeting. Every day. He was my best friend.
Then one day, he didn't come, and the next and the next. 2 weeks passed by, we didn't meet. I got anxious and started searching for him.
Excuse me sir, do you know any Samir Kandari nearby? Do you Madam?
No.
Then one day I heard about him. I was going to a store and I heard Madhav, our neighbour, telling his sister about a haunted house.
I couldn't help but eavesdrop.
'You know, all ghosts vanish forever on Shivratri…'
(Shivratri is a Hindu festival celebrated annually in the honour of god Shiva.) Hah, I thought Stupid superstitions.
Just when I decided that it was rubbish, Madhav said this: 'The house, near the temple- never go near it. The Kandari family was murdered-'
'What!' I said, surprised.
'Yes!' said Madhav, pleased at the affect he had created.
'When?'
'About-'
"Take me there. Now.'
'I won't come along, it's straight and left.'
I rushed to the address, I couldn't believe it! My best (and only) friend murdered, and I didn't know! I reached the address, and rang the bell, waiting for Samir to come out and tell me that it was just a ridiculous rumour.
But nobody opened the door. A man yelled at me: 'Get out of there! The police is investigating that area! There's been a murder!'
It took me a moment to digest this. I burst into tears and ran home, straight to my bedroom.
I came out to drink some water later, when I heard Savitri bua telling Priti bua; '…Ridiculous. 9 months since that Kandari murder and the case is yet not solved! I say…'
The glass in my hand fell down and shattered. I clasped my hands on my mouth. 9 months. My momentarily numb mind restarted, I slowly put one and one together, and we had met only a month ago. Samir had disappeared just after Shivratri.
I had been talking to a ghost all this time.