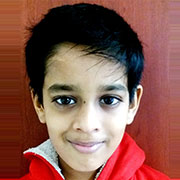 "My Family"
by
Aniruddha Aloke Banerjee,
is the
Highly Commended
story in the junior category of the second biannual
International Short Story Contest 2017
which was organized by Kids World Fun.
My Family
Linda hopelessly rushed towards Ron from getting him inexorably sucked into a whirlpool. While Ron cried and continued his downward spiral into the abyss, Linda followed him into it and eventually vanished out of sight. I stretched my hands and flung myself in that direction but could not reach them...Oh No! Why me?...Where did Linda and Ron go? I shrieked and broke into sobbing ...
After getting up panting and sweating, I found myself lying on my bed. Thank God! I got back my breath and realized that nothing was amiss. It was just a crazy dream. As night progressed, a strong desire to come out of my super luxury cup-cabin gripped me. I came out with my gears, only to be reproached by a gust of vicious wind blowing past me. I stopped on my track and hopped back to my cabin. It was the fourth night of my stay in Mars. I couldn't sleep the whole night. After 480 long hours of grueling journey, the first view of Mars surface was like a dream come true. I, along with my fellow travelers went around the town of Curoto every day. Cabins of various shapes and sizes dotted the landscape. Mr. Cheng and his people made everything look picture perfect. Beautiful humanoid Robots greeted us wherever we went. We saw a lot of new species of plants that had been specially developed for Mars. Magnificent villas were coming up towards the far end of Curoto town. A lot of people had already come to stay there. We saw a group of young boys and girls playing Rugby.
Well, for the first four days in Mars everything went according to my plan. I saw different unoccupied cabins built by Sandy Cheng. Mr. Cheng, was actually the biggest realty agent operating on Mars. He owned a travel agency as well, which offered people various tour packages to and fro from Earth and Mars along with boarding, food and lodging facilities. I had paid him a million plus dollars in advance for the whole trip. Before embarking on the journey, I had even booked an apartment for my family on Mars as a second home. In fact I had chosen a cute little cabin apartment and decided to gift it to Linda on her coming birthday.
On the fourth evening. Mr. Cheng threw a grand banquet at the launch of another new housing scheme in the city of Merino. Most delightful dishes had been served with fun filled activities for the residents and visitors alike. Mobots, as robots are called in Mars, served and entertained us all through the evening and into the dead of the night. After so many tiring days I enjoyed a lot and returned to my cabin very late at almost 2 o'clock. I was so tired that I nearly collapsed on the bed. After that I had the dream, which shocked me awake.
Lying lonely on my bed I remembered the day when I was going to leave for Mars. With a heavy heart, I bade farewell and kissed my wife Linda and my son Ron, who was just two years. He had asked, "Papa, Papa. Where are you going?" "To Mars" I replied, kissed him again. I knew I was not going to see him for almost 2 months, but avoided telling him that. Linda seemed too quiet and cold to respond. May be, she was too scared about the whole plan of my going to another planet. But I was an adventurous guy always raring to have such fun. Linda however, couldn't reconcile with this habit of mine and would sometimes threaten to even walk out on me. But I would not bother much about that. I always wanted my own space away from my family and friends into a place of my choice for a month or two months every year. That is the way I had lived my life.
I remembered all this after I had the dream. Unable to get back to sleep, I got up and went to the kitchen for a glass of water. But my SAT phone beeped that time. A message, I thought and pulled myself to the phone. It was a message from my office. It was sent twenty-one minutes and eight seconds before. It read: 'Linda and Ron met with an accident, while on their way to her office. They have been admitted to the emergency ward of Tallot general hospital.'
"Hospital!" I trembled with fear. The fingers on the phone had almost numbed. I dropped in a chair. Unconnected thoughts floated in my head. What if my dream....? Oh, no, it was just a dream, don't over-react. I tried to calm myself and fired a reply- 'How did it happen?' After an hour, a second message popped up on my screen. It read: 'Linda was disturbed because of Ron's sickness from the last 13 days and was on her way to the office along with Ron.'
So... Now what? With a throbbing head, I chalked out my plan for the morning. Sandy Cheng's office opened at 10 am. Passing those six hours seemed like ages to me. Jesus! Save Linda and Ron. I prayed before leaving for Cheng's office. As I stood in front of the main office-door the robot watchman told me that boss would not be available today. I thought for a while and rushed to Sandy's home in the posh areas of the Curoto Township. He had a big villa there, in the east corner of the town. When I came up above the staircase I saw another humanoid mobot. This mobot first captured my photo and after 15 seconds, said in a mechanical voice, "You have no appointment. Please take Appointment. Please take appointment. Thank you". I typed an appointment request on the screen of the mobot and returned home.
I tried to contact Linda and others in the office, as well as friends elsewhere but to no avail. The whole day passed with all kinds of scary imaginations popping up in quick succession. I started cursing the day, when I left earth. In between Naty, the mobot helper in my room asked me for a lunch. I simply refused to have anything but then decided to order a cup of strong coffee. In the late evening my phone rang, a call from Mr. Cheng. A mechanical voice said "Sandy Cheng invites you to his office at 7 PM." I left in a hurry. When I reached there, the time was a quarter to 7 and it was dark all around. As soon as I entered his office, Sandy came there and gave me a warm handshake. He wore a wide smile and without asking me about my purpose of visit, asked me to sit down and started appreciating me for my quick decision. Then he put all the brochures of the housing schemes before me. I tried to intervene but he would have none of it and said, "Sir, you need not worry, we have a new big one, especially for you," pointing towards a brochure, "We will negotiate the price. Your wife will love it. I will finance your family's forthcoming visit to Mars as well if you go for it." Sandy had thought that I was going to finalize the purchase of the cabin. He pulled out a bottle of champagne and a glass to celebrate the deal which wasn't there, but stopping him midway, I said, "But.. I have come here for an emergency.".
"What? Some problem with the services at the hotel?"
"No. I want to return."
"Why? Anything wrong with the agreement? If you want, we have smaller cabins as well, at a discounted price."
"My wife and son are in the hospital."
"So what? Isn't your staff there?" He nearly barked.
"You won't understand. Anyway, I need refund."
"No refunds allowed. It is in the agreement, Sir."
"Any return trip possible?"
Sandy said, "None of my clients are returning as of now. I shall call my secretary to see if there is any option for a separate passenger in the coming days. But you have to pay 40% extra upfront, for the return trip before boarding. You violated our agreement."
Thereafter Sandy pulled out his Sat-phone and had a short conversation with someone and said, "A cargo spacecraft that had brought some Life Support Systems and production units shall make a return trip tonight. If you really want to go back, I can arrange for a seat in that shuttle. Remember, the 40% extra still holds. It will leave the launch pad 8 miles north of here exactly at 2200 hours." I agreed and transferred the remaining amount to seal the deal for my return journey.
After giving me a cold handshake Sandy bade me adieu and slammed the door behind me. I returned to my hotel, packed everything and sent a message to my office, "Returning home in twenty days flat. Boarding cargo shuttle tonight 2200 hrs.''
Somehow, I reached the launch pad at the right time and managed to slip into the cargo ship with the help of the pilot and co-pilot. I didn't care much about space or comfort. In between two containers, I sunk to my knees. Ron and Linda came floating before my eyes every now and then, but with every passing day, it seemed as if they were going further and further away from me. The adventurous streak in me, seemed to diminish each day. A realization dawned on me that it is my family, which comes first and everything else comes next.