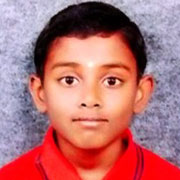 "Compassionate Nature"
by
Viraj G I,
is the
Highly Commended
story in the sub-junior category of the second biannual
International Short Story Contest 2017
which was organized by Kids World Fun.
Compassionate Nature
There was a village named Kalnur, a farmer Bhadra lived in that village and loved to help his village people whenever he could. Bhadra was eagerly waiting for his coconut trees to yield coconut that he had grown in his farm so that he can provide tender coconut water to his village people for lesser price in summer season.
Bhadra was a very compassionate and humble person. He grew coconut trees with so much love and proper care. He used to water them in summer season by bringing water from other village. He took care of the trees as just like his kids. He loved and thanked his trees every day. One fine day coconuts started yielding and Bhadra soon provided his people tender coconut water and was very happy for his service and was grateful for his trees.
This went on for few years but one year village faced serious drought and he could not provide proper water and care to the trees. He felt sad and then one day he planned to get water from a very far away village and he requested his friend Bhaira to look after his farm. But Bhaira had a wicked plan to cut the trees, sell it and make money. So he cuts down a few trees and made money.
After few days Bhadra gets water for his trees and he was glad. Bhadra went to his farm and starts to water the trees. While watering, all the trees screamed out to inform him that his friend had cut down the trees but Bhadra could not understand anything. And the trees too didn't know how to convey Bhadra and were frightened about Bhaira.
As Bhadra went on watering, he saw that some of the trees were cut down at the back of farm. Bhadra was horrified to see this and cried out loudly. All the trees too felt sad to see Bhadra crying. He enquired his friend Bhaira about it but Bhaira told him that he had no idea who did it. Bhadra returned home and sat down quietly thinking about his trees and how to save the other trees.
After few days Bhaira came to cut the trees again and the trees got very frightened to see Bhaira entering the farm.
Tree 1: Look friends Bhaira is coming straight to us. I think he will cut down all of us.
Tree 2: No this time we'll not let him do this. Let's plan friends what can we do now?
Tree 1: I have an idea I will simply drop a small coconut on his head.
Tree 2: No, we're not supposed to hurt any human. Have you ever heard that any coconut tree dropping coconuts on anybody?
Tree 1: Yes, you are right. But now this is the only idea that can stop him. Otherwise we all are going to die.
Tree 2: Do all of you agree to our friend's idea?
Other Trees: Yes, we agree. But don't hit him very hard.
Tree 1: Let's do it.
As Bhaira approached the tree a coconut fell on him. Bhaira fell unconscious. The next morning, when Bhadra came he saw Bhaira unconscious. He took Bhaira to the hospital and admitted him. When Bhaira got up he was in the hospital and he came to know that Bhadra helped him. Bhaira felt very bad about his behavior towards his friend and told the truth to his friend. But Bhadra didn't punish him but was happy that he told the truth. Then Bhaira understood that all the trees and plants on this earth can feel, see, understand and can memorize.
MOTS: NATURE HAS ALWAYS BEEN HELPFUL TO HUMAN KIND. BE KIND TO NATURE