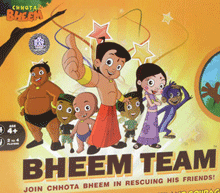 Bheem Team Board Game
Inspired by the most popular fictional character, Kid's hero Chhota Bheem and the series, MadRat Games designed an interesting board game for kids.
Bheem Team Board Game is inspired by the super hero series Chhota Bheem. Chhota Bheem is all set to rescue all his friends from the evil Daku. This board game has all important characters of Chhota Bheem, which will be loved by the children.
The board game has 36 character cards, 4 Bheem Team Maps, 5 Laddoo Cards, 3 Shuffle Cards and 10 Evil Daku cards.
Kids help Chhota Bheem to identify and release his friends from Evil Daku. The first one to collect all 9 characters wins the game. The interesting part of game is Laddoo Power!
The board game is very similar to the stories of the Chhota Bheem series, which creates deep interest in kids. Kids will love it as the game makes them feel they are totally involved with Bheem.
The game needs 4 players and suitable for kids about 3 years. Even adults can play with children without getting boredom. It is sufficient to keep the kids entertained for quite a sometime.
The quality of the cards is average, neither excellent nor poor.
This game improves memory skills, social skills, and builds team play at a very little age. Playing together happily with friends filled with lots of fun improves interpersonal relationships. It is a unique and different from the typical memory game.