Toys Games » My Toy Factory Trainee Kit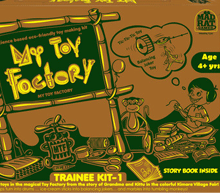 My Toy Factory Trainee Kit
MadRat Games, a popular name in the world of children games has an interesting board game for children!
This board game will keep your kids occupied for a considerable amount of time in a useful way.
Your little one may have complete entertainment with this My Toy Factory Trainee Kit board game.
The game contains a manual, an interesting story book, 3 village kits and 3 village mats, a toy kit and a nice coloring book. With these tools, the little one can easily craft a scene from the story book, make a toy on their own, read the fairy tales and fables from the book, sketch the coloring book, etc.
This board is all about creativity and imagination. This is completely a different kind of Toy for children.
This is suitable for children aged 7 to 12 years.
Even parents can join the children to portray a colorful and beautiful village or a natural theme.
Instructions are clear, simple and concise. The kit comes in a nice package.
However, don't try to buy it for children under the age of 5 or 6 years as you will end up becoming the artist and your child will become your spectator!
The verdict – Not all children will love this kind of game! Children who love to unleash their creativity would love this DIY toy factory! Definitely, a unique game for children!