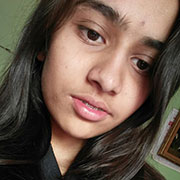 "The Struggle"
by
Anupa Khanal, Nepal,
is the
Highly Commended
story in the senior category of the first biannual
Short Story Contest 2018.
The Struggle
Raghav headed to the entrance of the hospital and he felt a surge of anxiety within him. He had little hope left but the fear of his health reports had weakened him in the last few days. He had constant back pain and fever for over a year but he did not pay any heed. Those were the warnings before the storm he was going to face in the coming days. He had kept the pain to himself and shared nothing at all. Lumps of tissues under the skin formed in his body and after suffering from the pain that he could no longer resist, he thought of consulting a doctor.
Slowly, he managed to walk up to the doctor's room. The doctor, who was in his mid forties, looked well-built and stout. He was reading something but Raghav could not make out what it was. Raghav knocked at his door to make him aware of his presence.
Doctor said "Come in Mr. Raghav, please take your sit."
Raghav was shivering as the reports could change his life. He took his seat and the doctor first counseled him.
"Can you say it clearly what has happened to me? Is anything wrong with my health? Am I going to die? What will happen to my wife and my daughter if I die?" he bombarded the doctor with these questions.
Doctor said in a calm voice, "You are suffering from neuroblastoma which is a type of cancer where immature cells transform into cancer cells."
"Will I recover from it?" Raghav asked.
The doctor said in a straight voice, "People suffering from this type of cancer do not recover."
He started thinking of his daughter and his wife who were in Nepal and he was here at Qatar struggling with this disease. Tears started rolling down his cheeks.
With the little courage he had, he asked how much time was left with him. The doctor said that he had only two years left with him.
Leaving his wife back in the village within a month of marriage was not so easy. After that, he had never gotten a chance to go back home and meet his wife and daughter. He had never seen his daughter before except in the photos. He had just called his daughter the day before and had promised her that he would come home this year.
He now started to think that he will die without seeing his daughter. The fear started to engulf him. He just couldn't think about anything else. He then walked out of the hospital thinking about his family.
He could not sleep the whole night and the doctor's voice clearly echoed in his ears. He had just two years left in his hands. He was afraid to think about how his family will react after knowing the truth. What would he do with these 730 days which would pass in the blink of an eye?
Nevertheless, he thought of spending his last moments in his home. Seeing his daughter smile and play, it will bring a sigh of relief to his heart. He called his wife and informed her about coming back home but made sure she will never know about his condition. Her happiness knew no bounds; he could hear it in her voice.
He was now happy that he could die in his own country not in someone else. He booked a flight and left for his home where he was meant to be. At last, destiny desired to unite them.
The village had changed a lot after he left. The village was the same but the numbers of people were different. The fields were the same except the crops they grew. Every single household had at least one member in a foreign country. The old people with small children were only left. Then he thought for a while, how would the old ones feel after all their loved ones left them.
He headed to his house. A girl was standing nearby the door and seemed to be waiting for someone. It was obviously his daughter. He gave her a tight hug and she seemed happy too. His wife came out hurriedly. He could see tears in her eyes due to happiness.
The life was going smoothly. He used to be content seeing his daughter. He thought about his soon-to-be widow wife. How happy she was but this would not last long. Days passed by, the truth cannot be hidden for long. He started losing weight excessively and fever became his friend. His wife suggested him to go to the doctor. He now thought it would be the right time to reveal the truth. He shared all the things with her so that she will not break down after his death.
After listening to all these things, the tears could not be controlled and they both cried the whole day. Things were getting worse; the doctor himself suggested that he will die in a few days. He had turned pale, lean and thin. Nothing could be done even by the doctors to save him.
So, in his last few breaths, he told his wife about the book he was writing. He had told her to publish it after he died. "All the money from the book would be utilized for widow women," he said these words before taking his last few breaths. Just few seconds back, he had been speaking; he was now a lifeless creature.
He left the world, leaving his family in pain. After funeral and all the funeral rites, she did whatever he had asked her to do. She published a draft into novel.
"The Nepalese Struggle" was the book's name. It was a true story and a very inspiring one. After its release, it sold 10 million copies with translations in different languages. It received lots of awards and earned huge amount of money which was utilized to help widow women. Later, she established an organization for widow women and their welfare.