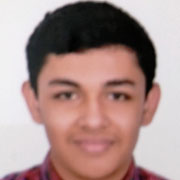 "The Dubious Duplicate"
by
Anamoy Moitra, India,
is the
Highly Commended
story in the senior category of the first biannual
Short Story Contest 2018.
The Dubious Duplicate
It was in May 2012, when I was confronted with some extraordinary and rather strange events in my life.
I, being a detective by profession, have come across many peculiar cases but this case stands out from the rest because it was concerned with my own self.
Some bizarre circumstances surrounded me when I took a few days off from my practice in Mumbai and thought of taking a holiday to visit Delhi.
I have one of my friends -Pradeep Agarwal residing in Delhi. He owns a travel agency and he promised to arrange a car for me on reaching Delhi. I reached Delhi on 8th May by the Mumbai-Delhi Flight and lodged at The Corus Hotel in Connaught Place. By 5.30 that evening, I was sitting on the couch in the hotel room I'd booked for myself, when suddenly I felt an impulse of moving out and taking a stroll at the marketplace near my hotel. Walking through the street I came across a jewellery shop –MAJUMDAR JEWELLERY DEALERS AND TRADERS, read the board outside the shop. To my surprise I noticed the owner of this shop frowning and staring at me keenly. On reaching near his shop he suddenly said, "Hey, sir, will you come in here?". I went into the shop, "Sir", he said, "I don't wish any unpleasantness but I believe that yesterday when you had visited my shop you picked a pearl necklace. Kindly return it or else I will have to call the police." I was completely perplexed & humbly stated, "Sir, I don't get you, I am not a resident of this city & have come today. I am putting up at The Corus Hotel, you can enquire if you please." Mr. Majumdar corrugated his eyebrows. I handed him my visiting card for his assurance. "Oh! I see ", he uttered in a tone of bewilderment, "I am sorry to bother you, Mr. Yudhishtir Sinha but as I understand you are a private detective, I urge you to probe into this matter. It is quite serious."
I consented & asked him to explain the case.
He started, "Sir, the case is very intricate and I don't want the involvement of the police as frankly speaking I do not trust them. Moreover after hearing the case you yourself will not wish to take their help as during police investigation you could land into trouble. Therefore, I insist you to take up this case personally and approach the police after having some solid conclusive evidence".
"State your case", I said crisply.
"Well, sir I will elucidate the facts briefly. I have the habit of opening my shop by 9 a.m. I open it myself as my employees arrive at 10 am. Yesterday, around 9.30 a.m., I was busy arranging the jewelleries and putting them on display when a man in blue T-shirt and black jeans entered. His height, facial features, hairstyle & gait all resembled yours. You can yourself assume. Sir, the extent of similarity between you two is so much that I mistook you for him today."
"Very interesting." I remarked, "Pray continue".
"That man demanded to see some pearl necklaces. I found his arrival at such an early hour quite unusual. Anyhow as per his wish I showed him some exquisite pearl necklaces but he seemed dissatisfied. "Sir please specify your demand." I said. After a moment of reflection he spoke, "Just show ordinary pearl necklaces, not these expensive ones, quick. He seemed quite impatient."
I showed him some more necklaces which he didn't seem to like. Now I was getting a bit irritated. Then, all of a sudden there was a spark in his eyes at the sight of one of the necklaces. He picked it up and stared at it with a beaming face. But he soon suppressed his excitement and put up an expression of discontentment. Placing that necklace in the box, he said, "Can you show me the ones placed on the lower shelf?" I did so. I placed the tray before him. He glanced at them and said with a sigh," Sorry sir perhaps you don't have the kind of necklace I am looking for. Good Day." Saying so he left my shop. Then I got up to put back those necklaces, while doing so, I realized that there was something amiss with the very necklace which my recent customer had picked up. Try to understand Mr. Sinha the necklace which that fellow picked up was made of South Sea Pearls. I am an expert in judging stones and gems, so while placing the necklace back it immediately struck me that it was not original as it lacked its characteristic lustre and richness. On close examination I found that it was a cheap duplicate of the original one."
"I see", said I. Then I asked him," Was this necklace of extraordinary value? I mean, was there anything special about it?"
"Nothing, Mr. Sinha and that's the most surprising. In fact the necklaces shown to him before were more expensive." said he.
"I see", I replied somewhat baffled. What was the motive behind stealing a commonplace necklace? It was absolutely certain that the thief, my doppelganger, wanted that particular necklace only. And for that purpose he had got a duplicate of that necklace ready with him . But why?
I asked Mr Majumdar to provide an accurate description of the necklace. He informed, "Nothing unique, Mr. Sinha. It had hundred-and-eight pearls stringed together."
"Has someone sold you this necklace?" I asked, knowing that Mr. Majumdar was a jewellery dealer.
"Yes, but that was a long time back, almost eight years."
"Okay", I said, "Can you give me his name please?"
"Just a minute, sir. I will give you all the details of the transaction," he responded.
"Ramesh!" he called out for his helper, "Give my record book of 2004."
Ramesh presented his short, thin self, holding a bulky register in his hands.
Taking the register he flipped its pages and informed," The man who sold it to me was Brijmohan Tripathi. The date of the deal was 20th August 2004. Yes, he was an old man in his seventies. From his clothes I could figure out that he was facing financial crunch. He was a man of average height, dark complexion with grey hair and moustache. He showed me the necklace and wanted a fair price for it. I paid him ten-thousand rupees."
I enquired about the address of Mr.Tripathi and came to know that he stayed at F-21, Block F, Connaught place near Radial Road no.7. As I was exiting from the shop, my eyes fell on the sandals of Ramesh which had charcoal, used in road construction, adhering to them. As far as I could remember I had noticed no road under construction so far.
The sun had set and the street lights were on. I felt a sort of uneasiness. Was it owing to the awkward situation I had landed in wherein the person I was supposed to trace was my own replica or was it the charcoal I noticed on the sandals of Ramesh that seemed to be so very suggestive to me? Moreover I could see something suspicious in the protruding eyes of that helper.
I decided against returning to the hotel but going further down the street, I reached a point where the street merged with the main road. I looked at my wrist watch, it was 8.30p.m. My dinner time being 9 p.m. I decided to make the best use of half an hour. I kept on walking further , after covering some distance I came across a part of road laid with charcoal and a road roller parked nearby. I looked towards my left , there was a shop selling "paan" and I observed the paan seller looking curiously at me. I went near him and he said," Sahib, do you need anything else?"
Surprised, I said, "No", and understood the doppelganger was here before me. I examined the area carefully, the road was under construction for about a mile thereafter it diverged into two directions.
It was ten minutes to nine. So I took a rickshaw to return. On my way, I saw Mr. Majumdar in his Honda City going back home. Seeing him I asked the rickshaw puller to stop, Mr. Majumdar too halted his car on seeing me. He popped his face out of the car window," What's it Mr. Sinha?", he asked. "I need the answer of some questions Mr. Majumdar." I replied. "Ask away", he responded.
"Was Ramesh present yesterday?"
"Well, yes but a bit late around two".
"Do you know his address?"
"Yes he lives near to Connaught Place in a rented accommodation at Minto Road.
"Is he an old employee?'
"No. He joined a month ago."
"OK Sir thank you."
Saying so I took his leave and returned to my hotel. Next morning I was woken up by Mr. Majumdar's call.
"Last night there had been a thief in my home", he said in a nervous tone.
"Anything stolen?"
"Nothing, but the window pane was broken and all my belongings rifled with. Please come to my house immediately. My address is H-51, Sunder Nagar".
Mr Majumdar's house was on 6th floor. I found it tastefully decorated with paintings adorning the walls.
On investigating I found all the things lying scattered in the study room, two bedrooms but the living room was untouched.
"The thief appears to be in search of something", I told Mr. Majumdar
"But nothing is missing", he informed.
"Now let's look at the place of entry".
Mr. Majumdar guided me to the study room window. I noticed it was without grill, the only such window.
I then examined the dusty table near the window where astonishingly I noticed some footmarks. "The fellow was barefooted, these footmarks indicate his being a small sized man.' I told Mr Majumdar.
I also noticed a circular impression on that table. "Ah! I expected it ,"I remarked after sniffing it , "It's chloroform the fellow had got his protection in case you got up. But, didn't you hear any sound of breaking of glass?"
"I was very exhausted, so dozed off to sleep, I had heard some sound which I thought came from outside", he informed.
On going outside I found a waterpipe near the window which, certainly, had been used to reach the window. There was also a muddy patch on which were the imprints of shoes, much larger than the foot impressions upstairs. This certainly indicated the presence of two men and the smaller one had entered.
After leaving the place, I came back to the main road and observed the pan seller whom I met last night. "Sahib, I've delivered the pack of Dunhill Cigarette you ordered yesterday."
I snatched the opportunity and asked him, "You know my address?'
"Yes" he replied, "you once told that you stay at the Kaushik Lodge on Barrack Street.
The surety of his statement confirmed I was indeed on the track of my doppelganger.
I came to know that the fellow took lodging at Mrs Kaushik's place. As expected she mistook me for him but on my showing her my card and explaining the matter she was convinced. She informed that the name of my doppelganger was Vikas Malhotra who came a month ago. Then Mrs Kaushik said, "Also sometimes he's accompanied by another man."
"Is he short and thin?", I enquired.
"Yes", she answered amazed.
"One more thing, day before yesterday I saw him with a bottle of beer , which surprised me as I had never seen him drink," she further informed.
I was overwhelmed with the flood of information. Reaching the hotel I checked the internet for information about Vikas Malhotra. After some retrospection, I could figure out the all the missing links of the chain.
I took a car and went at Mr. Brijmohan Tripathi's address, given by Mr. Majumdar. I came to know that after the death of Mr. Tripathi in 2008 the house was unlet. Till 2002, as expected, it was owned by Vikas Malhotra.
I then went straight to Mr. Majumdar. He asked "Anything positive?"
"Yes", I replied, "But where have you kept real necklace?"
His face turned white with astonishment and he took out a necklace from behind of a painting. "I'm fond of these pearls", he said.
"And the one in shop?", I enquired.
"That's another one made of Akoya pearls which looks similar."
"If you think, this necklace is made of South Sea Pearls, you're mistaken".
I then took him to Mrs Kaushik's residence and demanded to see Vikas. She let us in. And I came face to face with my evil doppelganger. He was perplexed. Beside him was Ramesh who froze to see Mr. Majumdar.
Taking out my pistol I said sternly "Mr Vikas you're caught."
"Who're you,? he asked, giving a creepy glance.
"I'm explaining but be ready to serve another term in jail for stealing those Himalyan Crystals."
I then took out the original necklace & dipped it into his beer glass. After a while its colour came off & before us was a necklace made of rare Himalayan Crystals.
"Well, gentlemen, this fellow Vikas Malhotra is a criminal, arrested for murdering a man in 2002 and suspected of stealing Himalayan Crystals, in that man's possession. He is a former jewellery maker and at time of his arrest was working at a chemical company. When pursued by the police he concealed those crystals by coating them with pearl hue paint and forming a necklace of them. The subsequent house owner found that necklace and sold it to Mr.Majumdar. This is discovered by Malhotra on his release. Meanwhile Mr. Majumdar being fond of it kept it in his house keeping a different necklace in the shop. Malhotra first stole the wrong necklace and on realizing his mistake sent Ramesh to steal it from Mr. Majumdar's house which he couldn't. And here is the real necklace. Of course, assuming that beer can also be paint remover, assisted me. Ramesh, you'd better removed the charcoal from your sandals. It helped me imagine your association with this man as I found out there is no charcoal on the way to your residence. Now, Mr.Malhotra, I think it is time to call the police."