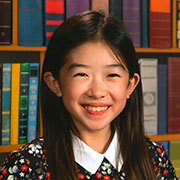 "The Angel Fountain"
by
Avery Cheng, Canada,
is the
Highly Commended
story in the sub-junior category of the first biannual
Short Story Contest 2018.
The Angel Fountain
It was a sunny summer day. I was reading on my couch with my dog Sandy when I heard the doorbell ring. I opened the door. Standing outside was a young woman and a little boy with charming blue eyes and curly blond hair. The boy bashfully hid behind his mom.
"Hello," I said. "Who are you looking for?"
"I just wanted to thank you," the woman exclaimed. "My son is five and has always come here after preschool to look at the angel fountain in your garden. Therefore, I have a box of chocolates for you as a gift."
"Thank you!" I said gratefully, then bid here farewell.
I had remembered that about a year ago, almost every day around four o'clock there was a small boy who came to my garden and stood still looking at my angel fountain without taking his eyes off it. His mom was always there waiting and watching him patiently. I wondered why the boy was so fascinated with my angel fountain.
This fountain was special to me; it was a family tradition passed down from my great grandmother. The angel was delicately made with a golden halo perched upon her head. In the summer, birds drank from the fountain while Sandy believed it was a drinking bowl and would quickly lap up could water to cool himself down on hot days.
A couple days later, I was looking out the window and caught a glimpse of the same little boy with his big blue eyes and curly hair staring at the fountain once again with his mother.
"Come in," I cried. "Would you like a cup of tea?"
While we talked I soon learned that the mom's name was Kate and the little boy's name was Liam. We quickly bonded over similarities and shared stories. Kate and I were nearly in tears of laughter by the time we finished. I glanced at Liam, who was still silently looking at the angel, his arm slung over Sandy. He looked like he was in his own happy place.
It was not long before Kate told me. Liam was autistic. He would not talk to anyone except his parents. Then it hit me like a brick. That was the reason why Liam loved my angel statue but didn't have any friends.
"Liam looks cold," said Kate. "I'll go get him and Sandy."
Kate came back with Liam. She whispered something in Liam's ear. He slowly walked towards me.
"Hey Liam," I said. "Do you want to play a game with me and Sandy?" While we played a game of chase, Liam began to giggle, then laugh. Soon, he was smiling happily, his cheeks rosy. When it was time for Liam to head home, he suddenly turned around and gave me a huge hug.
"Thank you, Kristy." Liam whispered, speaking his very first words to me, his face shining. It was a new beginning for Liam.