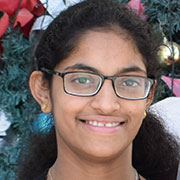 "Sisters"
by
Evangeline Jose, UAE,
is the
Highly Commended
story in the senior category of the first biannual
Short Story Contest 2018.
Sisters
I jumped a mile at the sound of the doorbell. I wasn't very used to visitors and I certainly wasn't expecting someone either. I was new in the area, and hadn't quite gotten around to knowing everyone who lived there. I was too busy with the unpacking and cleaning and all, you know. Too busy. I looked at my reflection in the mirror. I was a mess. My hair was wildly rumpled, and I was filled with grease and dirt because of all the cleaning I had been doing. It wasn't as if I could keep the person at the door waiting forever because of the way I looked, so I ran downstairs, trying to do something with my hair on the way, but I just ended up putting in more dirt and grease in it. Sighing, I flung the door open, and saw a middle aged woman standing a few steps away from it with a huge smile on her face. She wore a beautiful dress with all sorts of designs stitched together and her perfume was heavenly. Her curly hair was tied back in a thick braid and she had a box of chocolates tucked under her arm. Smiling, I opened the door a little wider and ushered my visitor inside. "Thank you, my dear!" she beamed. Soon, we were laughing and talking as though we had known each other forever. I was having the time of my life. Emerald, or Em, as I'd come to know her, was easy to talk to, and had a witty sense of humor, so it wasn't quite a surprise that I had warmed up to her so quickly, since I loved people who could make me laugh. Our friendship blossomed over the next few weeks. We met each other every day. She'd often come over to my house because she claimed her husband didn't like visitors. On days when she couldn't come over, we'd call each other and talk on the phone for hours at an end. We'd ask each other's opinions on anything and everything, makeup, clothes, food, recipes, politics, celebrity gossip, we covered it all.
One evening, I was clearing out my closet when my eyes fell on a rusty old box in the back. I was immediately curious, because I had never really noticed it before. Carefully, I picked it up in my hands and laid it on my bed. The box was heavy, as though it was fully loaded with stuff. It had a huge lock which had broken, probably owing to its age, I presumed. Taking a piece of cloth, I wiped it as best as I could and slowly lifted the lid. They were all gorgeous antiques, most of which I recognized as from my childhood home. Old chandeliers, beautiful lamp stands, a dusty old typewriter and a few childhood pictures of me and my sister. I gasped. My sister! Why, I'd almost forgotten about her! She'd run away from home at the age of fifteen after a massive fight with my parents. We never received any news from her after that and our family became accustomed to being a three instead of a four.
As I looked at the snapshot of me and my sister, all our memories came rushing back. Her voice rang out clearly in my ears, "Don't let anyone stop you from being you," she'd often advised me. Tears sprang to my eyes. My sister had been around twelve when the picture was taken. She was dressed at her Sunday best and her dark curls were tied back with a ribbon. She was smiling cheerfully by putting her one hand on her hip and the other around my waist. Her green eyes were twinkling with excitement. Strangely, it was as though her face strongly reminded me of someone else, but I couldn't connect the dots and so I left it there.I placed the picture on my nightstand and retired to bed for the night. As the sun streamed in through the window in the next morning, I woke up with a startling realization. Emerald and my sister, that's what the connection was! Unable to contain my excitement, I punched in Emerald's number on my phone. She picked up after a few seconds. "Em!" I screamed, "What do you know about Scarlet Frankson?" She seemed taken aback. But she slowly recovered and said, "Scarlet Frankson? Why! She lives in the huge white house right down the lane to our neighborhood," she said, surprised. I thanked her profusely, got out of the house and immediately ran down the lane. I found the white house quite easily for I had often marveled at its enormousness. Trembling from head to toe, I rang the doorbell. There was a flurry of motion at the door and an elegant lady ushered me inside. Gasping for breath, I told her the reason for my arrival. At first, when I was telling her my story, her face tightened. Then it slowly relaxed and a smile formed on her lips. As the story got to its ending, the smile on her face grew wider. Finally, I stopped talking. "So, where can I find her?" I asked. The lady called out for someone in a language that was foreign to me. I was anxious about what my sister would think of me, did she still love me or did she forget all about me? Suddenly, in front of me was….Emerald?! This was some kind of mistake, right? Slowly, Emerald narrated her story. And as it came to be, Em truly was my sister. Apparently, after she'd left home at fifteen, she'd changed her name from Scarlet because she wanted a new beginning to her life. She found a job which paid well and her life flourished. Sometimes, during her hardships, she'd think of our family but her ego prevented her from coming back to us. Eventually, she got married. She would often enquire about me through old friends and when she heard that I had moved to her very neighborhood, she decided to befriend me without revealing her identity. "And now you know who I am," she finished. At first, I couldn't digest all this, I had to give it some time to sink in. And when it finally did, I was in tears of joy. We embraced each other and talked about the old days. And as we sat on the comfy couch with mugs of hot cocoa, I couldn't help but think about how lucky I was to have someone like her in my life.