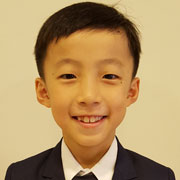 "Ripples"
by
Lau Kayson, Malaysia,
is the
First Prize
winning story in the sub-junior category of the first biannual
Short Story Contest 2018.
Ripples
It was a breezy autumn morning. Mr. Adam walked to work as usual. He stopped by his favourite Italian café to get his Espresso. He queued in the line while carrying a black-clad briefcase full of legal documents. Suddenly, he felt a push on his back. He turned around and saw a startled boy holding his wallet.
"Ah, I caught you red-handed! Let's just phone up the cops and get this done," said enraged Mr. Adam to the horrified boy.
The skinny boy burst into tears and knelt down instantly to ask for forgiveness.
"Sir, I'm s-s-sorry. I d-d-didn't mean to steal. I j-j-just wanted some money to buy m-m-medicines and food for my bedridden father. Please f-f-forgive me, sir," said the boy apologetically to Mr. Adam.
For a moment, Mr. Adam didn't know what to say. He saw the boy in a new light and felt very sorry for the him.
Mr. Adam bent over to help the boy up and said, "I'm sorry to hear that. Don't cry."
He then took out a hundred dollar note from his wallet and handed it over to the boy.
"Take it, boy. You must be starving. Get some food and buy the medicines for your father. I hope he gets well soon. Do not steal again, you may end up in trouble," said Mr. Adam in a fatherly voice.
"Thank you, sir. Thank you very much, sir. I promise I won't steal again. I hope I can pay you back one day, sir," said the boy in tears.
The boy hurried off to a nearby pharmacy to buy medicines for his father. On the way home, he stopped at a bakery shop to buy some bread. When he reached home, he told his father, Dawud what has happened.
With the medicines, Dawud recovered fast and was finally able to go back to work. Dawud worked as a cleaner in a small warehouse. One day, while walking to work, Dawud heard a man screaming, "Help! Help!" The voice came from the river. Dawud who was a good swimmer, spotted a drowning man. He dived into the river to rescue the man. The man, Chan Hong was very thankful that Dawud saved his life. He could have drowned without Dawud. Apparently, Chan Hong fell from his bicycle into the river when it hit a rock. His left foot was injured with throbbing pain. Both Dawud and Chan Hong were soaked to skin. Chan Hong offered to pay Dawud a new set of clothes but Dawud rejected his offer.
"There was a kind man who saved my life, otherwise I may not be here today. You can pay me back by being kind to others," said Dawud to Chan Hong.
Chan Hong thanked Dawud again and walked to a nearby clinic to treat his wound. Thankfully, it was just a minor injury. On his way home, he spotted a woman standing by her car looking panicked. He decided to find out if he could help. That woman, Dr. Emma told Chan Hong that her car tyre got punctured by a nail. Chan Hong helped Dr. Emma to change her tyre. The work was done in less than 20 minutes. She felt relieved. She thanked Chan Hong and gave him her business card.
"Call me if you need help in the future," said Dr. Emma.
"A kind man saved my life this morning, otherwise I may not be here now. And he said to me that I can repay his kindness by helping others in need. I'm glad I did it. You can pay me back by doing the same," said Chan Hong.
After thanking Chan Hong, Dr. Emma drove off to the hospital for work. As she stopped her car at the traffic light, she saw a man who was about to cross the road collapsed in a heap in front of a motorcyclist. She immediately stopped her car at the side and sprinted to the man who was lying on the road. Dr. Emma did C.P.R for the man and requested the motorcyclist to call the ambulance. The ambulance arrived shortly after and the man was sent to the hospital. That man had a heart attack but he was lucky to be sent to the hospital before it was too late. That man was Mr. Adam.
After Mr. Adam recovered, he thanked Dr. Emma for rescuing his life.
Dr. Emma said to him: "A kind man who has once helped me told me that I can repay his kindness by helping others in need. I'm glad I did it. You can pay me back by doing the same."
Little did Mr. Adam know that it was he himself who had saved his own life. It all started when he showed his kindness to the boy who wanted to steal his wallet. If Mr. Adam did not give the money to the boy, Dawud might not have rescued Chan Hong and Dr. Emma might not be able to change her tyre on time. Then, she might not have saved Mr. Adam.
A simple act of kindness and caring creates an endless ripple that comes back to you!