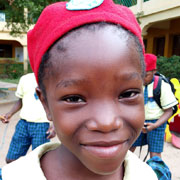 "Rich"
by
Nifemi Adeleye, Nigeria,
is the
Third Prize
winning story in the sub-junior category of the first biannual
Short Story Contest 2018.
Rich
I have a little brown teddy bear I call Rich. My sister likes it too. She always takes my teddy from me just when I want to play.
'I am older so obey me. Rich is mine now!' she would say.
'Never!' I would respond and chase her about the house to get my teddy back.
'Let your sister be.' my mom would call out. Mom would look at me and say, 'Share your teddy, Nifemi.'
My complaints that Dami never let me play with my own teddy would make no difference. I couldn't take it anymore. Not today.
'No!' I cried. I snatched at Rich, Dami pulled back and we tore Rich in two.
'Nooo!' I screamed as Dami laughed. Mom pulled her ear.
'Wicked girl! You will take a needle and thread and fix that teddy or no supper for you.'
'Dami can't sew. She'll make a mess of Rich!' said I.
'That's why you are going to help her. Now get to your room and don't come down until you have fixed that teddy. 'The both of you!', Mom made it clear she was talking to the both of us.
We went up skulking and grumbling. In the room, Dami lay on her bed. 'Hurry up and fix your teddy so I can go and eat' she said.
'I will tell Mom you didn't help' said I.
'You wouldn't dare' Dami threatened.
'Yes I would. This is all your fault. You won't let me play with my own teddy.'
'If you hadn't pulled…' said Dami
'If you had let go…' said I
'Rich would not have been spoiled!' we both said at the same time.
I wiped a tear from my eye and Dami just looked at me. I took out my needle and thread and started to sew Rich up. After a while, Dami came and sat by me. She looked at what I was doing then said, 'Let me try.'
I showed her how to make the stitch. After some minutes she held up her work for me to see and I said, 'Not bad.' Dami had an idea.
'Why don't we sew a dress for Rich? She only ever wears her bow.'
'That's a great idea. I know where to get some nice material.'
I ran downstairs, past my mom to her sewing room and took some fabric. When I got back, Dami had made some sketches of lovely teddy dresses.
'I like this one' I said. 'You make the sleeves, I'll make the bodice then we'll work on the skirt.' We got to work.
'We should put more flounces in the skirt. What do you think?' Dami asked
'I agree. We'll mix up the fabric…'
We went on like that and time went by. We did not notice when Mom came to check on us. She said nothing. Much later she told us she thought she had seen Rich smiling there on the bed where we had left her.