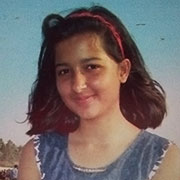 "Rain In The Dark"
by
Divyajyoti Katoch, India,
is the
Highly Commended
story in the senior category of the first biannual
Short Story Contest 2018.
Rain In The Dark
Cold and heavy droplets of rainwater met my face and my body as I walked, alone on the dark and damp road. Drenched in rainwater and deafened by sound of heavy raindrops hitting the trees and the ground, I could just curse myself for deciding to walk on my own to my house and that too by that completely isolated road.
No vehicles, no people, no streetlights and not even a cellphone. There was just the gravel road beneath me, flanked by tall trees on either side. But this wasn't the end of it, the worst fear that I had in my mind was yet to come. Just a stone's throw away from me, was a graveyard, infamous for the creepy incidents that took place there.
I didn't want to cross the graveyard but just hopelessly praying for a miracle in the middle of an isolated road too wasn't a very pleasing idea.
With a heavy heart, a shivering soul and a frightened mind, I slowly walked closer to the graveyard. Just then, I heard the howl of a night-bird. It seemed as if the bird was in extreme agony. (Doesn't this seem perfect for the set-up of a horror movie?)
With every step that I took, the rain was getting heavier and my senses were becoming dumb. The only sound to be heard was that of the rain and the night-bird, both of which were not very reassuring. My heart was beating heavily against my chest. I nervously clenched my fists and dug my palm with my. I took a deep breath to calm myself but it wasn't enough. I could still feel blood rushing through my veins.
For a moment I forgot about the graveyard but the very next moment, realized my current situation, which sent a cold chill down to my spine.
I mustered up all my courage and began walking steadily down the road.
I could have crossed the graveyard if I hadn't heard that strange rustling noise which probably coming from one of the bushes behind me.
I froze.
I wanted to scream for help, but I stood paralyzed because of my fear. I couldn't even dare to turn around or run away.
I felt that this is the last moment in my life. Soon, an evil spirit from the graveyard would come and devour me. Tears began forming around the corners of my eyes when I thought about my helplessness.
I closed my eyes once again. Images of my family members and close friends popped up in my mind as I prepared myself for my end.
But suddenly, a strong urge to check out the reason behind the rustling sound took over me. I was still afraid but my curiosity was stronger than my fears.
I walked toward the bush and carefully observed it. I was curiously waiting to kill the innocent girl, obviously me. My gaze fell upon something very disturbing in the bush.
Two large eyes were staring back at me. Those eyes glowed bright in the dark. I fell backwards towards the ground as soon as I saw those scary eyes. Those eyes were coming closer and so was my end. Suddenly, there was an ear splitting noise and a huge creature jumped out of the bush.
To my utter surprise, it was a …….donkey.
The donkey ran away leaving me surprised on the ground. I was dumbstruck at my own stupidity. Did I think that a donkey would be my end?
Thank God, I was alone or I would have been a subject of humour for everyone, that too for months.
I was so irritated by my own stupidity that I didn't care for the graveyard and its spirits anymore. I briskly walked along the graveyard while it was still raining.
Now, walking on that road was not so bad when I knew that there were other living creatures with me too (I don't mind if they are birds or animals). And talking about that donkey, I think it was scared to see me just like I was scared to see it.
Soon, I could see my home at a distance.
I was happy to be in the four walls of my home again.
I couldn't forget the incident for days, probably because of the week long cold that didn't leave me because of getting soaked in rain for such a long time.