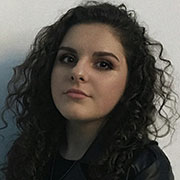 "Our Minds"
by
Gaure Ana Maria, Romania,
is the
Highly Commended
story in the senior category of the first biannual
Short Story Contest 2018.
Our Minds
The rocker squeaks under my weight, but I choose to ignore the sound. Maybe because I got used to it or maybe because I know nobody will fix it. I got my book that has fallen on the grass and I was trying to read. I was interrupted, however, from my reading session by the hilarious sounds coming from our neighbor George's yard. He probably talked again with his cat, Margaret. I have always wondered if he was mad from the beginning or he lost his mind along the way, but I think this will remain a mystery. I got up from the rocker and it made a horrible sound that immediately scratched my ears. I was walking softly to the fence. Probably at this rhythm I'll get to the fence in about 10 minutes, but I don't hurry. George will probably do the same thing in the next few hours. When I finally reached to the fence I got up on my toes because of my ridiculous height and I saw George - an old and bald man - spinning Margaret like a child. Perhaps his sick mind really thinks that. His hairy stomach comes out through the dirty blouse stained with apricot jam. He wears the same pyjama pants and a pair of broken rubber shoes. His image spinning that redhead cat is simply disgusting, but it's the only interesting thing around here. When you live in my town, you do not have much to see, it's just that moody monotony that gets you crazy. People are too predictable, except George, of course. Otherwise, they all have the same program: walking to work with their modest, blue, 30-year-old cars, then returning to their humble dwelling. Sometimes I wonder if they don't confuse their houses. Even their children seem to be identical.
- "Genesis, are you spying our neighbours again?" My mother asked me, but I heard her voice from thousands of miles away. I was moving away from the fence and I managed to tell her a strangled "Yes" from the bottom of my throat. I was heading to the rocker with the same soft and gentle walking. I set myself on the colorful pillows again, and I tried to read, but my queer disappears suddenly. I looked around as though waiting for a chance to escape from this monotony, but I know I am making illusions for nothing. In front of me is my mother: the same woman I have known since I was born. She has the same red hair, arranged in a simplistic hairdo with black clips, the same long nails, red lacquered, even the same perfectly skin, even though she's almost 50 years old. She's dressed in the floral dress she's been wearing for dinner for years.
"The dinner is ready", she said, and left on her low heels that fall into the impeccable lawn.
I got up with a gasp, preparing myself to eat the same salty chicken soup, whose taste bothers my mouth every evening.
During dinner, or more precisely, while eating the only edible thing on that soup: the cooked carrots, my mom told me something interesting. We seem to have new neighbors. New people. My parents told me we were the last to come and that was almost 20 years ago. Since then this little town hasn't gotten anybody. The coming of a new family really delighted me.
The next day, the new family arrived and it seemed that my parents really wanted to meet them. They have one child: a boy named Elijah. I could see desperation in his black eyes. Desperation to escape the hell called Downbrooks. I know that feeling. His parents were not like him: his mother looks almost like my mom, excepting the blonde hair - very close to the shade of baked spicy wheat. Unlike her, his father has rich black hair, a rigid bone structure and a large nose. Nothing special. I focused my attention to only one I was interested in: the boy. With a nudge placed very subtly on my forearm, my mother managed to get me return to reality. She does this when she thinks I'm too "undisciplined for this society."
At the prayers of my mother, I took Elijah to a walk. In the woods: the only place I feel like home. I enjoyed the fresh air and I sat on a pile of dry leaves. Elijah followed me and sat right in front and I fell his black eyes judging me closely like lasers.
"What we are doing here, Genesis?" He asked me and I shuddered because his question takes me by surprise.
"What do you mean?" I asked him under my breath.
"Nothing here is real, no ... nothing", he said, and after a brief pause he added:... "it's all in our minds."
And it was getting dark. Very dark. A darkness that crushed my chest into million pieces. And I fell asleep.
I woke up in a white room. It's so white that I feel like I'm going to blind. I feel a cold chill on my back but this is the last thing I care about now. Where am I? What am I doing here? My thoughts were interrupted by a male figure that entered the room. He came in front of me and my fear overtakes me but before can I say something, I heard his deep voice:
"Miss Genesis, you are probably very scared. Let me introduce myself: I'm Dr. Branney and I work for the MK Ultra experiment. You are a subject for a mental control experiment..."
The rest of his words passed me like poisonous arrows and the cruel reality hit me in the face. Bitter tears flew over my cheeks and, violently, I tried to escape from that torture device called chair but my hands are tied. Immediately, I feel a sting on my neck and suddenly my eyes blur. I feel my body paralyzed under me and before my eyes irreversibly close I heard a whisper in the ear like the sound of waves:
"It is all in our minds...."