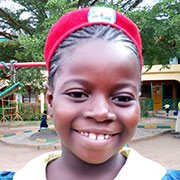 "Big For Nothing Saves The Day"
by
Chidinma Chidi-Egboka, Nigeria,
is the
Highly Commended
story in the sub-junior category of the first biannual
Short Story Contest 2018.
Big For Nothing Saves The Day
One thing Big-For-Nothing was good for was making a racket. He also liked to show off. That was not a good thing but it was funny. Any time a beautifully dressed person came by BFN, he would go silent, spread his wings, fluff his tail and walk about in a huff. That made us laugh so much, my sister and I would play dress up just to taunt him. BFN also liked to bully the other turkeys. He was the biggest turkey and he knew it. He would shove and threaten and try to eat all the corn by himself. BFN did not have any friends. He was always by himself, walking about and gobbling at anything that did not impress him. 'Let's get rid of this turkey' Daddy would say and Mummy would reply 'Not yet.' My sister would shout 'Be Quiet! I need to study!' and I would yell, 'Big-For-Nothing!' at it. I like to think that BFN understands everything we say and imagine him responding like so, 'Hmph. I am bigger and better looking than you are, so there!' One fine day, my family and I were out. BFN was roosting all by himself in his usual corner by the wall when two shabbily clad men jumped over the back wall into the compound. The security man was snoozing at the front of the house, he had no clue what was going on. The thieves worked quickly stuffing the turkeys into a big sack they brought with them. BFN watched them for a moment, sizing up these dirty looking people wearing old clothes and slippers. He came up behind them quietly assessing these intruders then decided in a split second that these men did not impress him one bit and he let loose the loudest racket imaginable. 'GOBBLE! GOOBLE!! GOBBLE!!!
The thieves flew into a panic and started to run about helter-skelter, letting their catch go in the process. Big-For Nothing was on a rampage, trying to get away from the men and the startled turkeys at the same time. The security man ran in from the front and joined the fray, brandishing his big stick and calling the thieves names. We arrived just in the nick of time to see the thieves scuttling back across the wall, the security man pulling at them, BFN still gobbling and running to and fro. It took a while for things to settle down but afterwards, we found the slippers of the thieves and guessed at what must have happened. Big-For-Nothing had saved the day. We have no plans to get rid of him anytime soon because he is the best security alarm system we only have to pay for in corn.