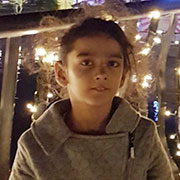 "A Cuddle of Joy"
by
Gazala Amjad Habibi, UAE,
is the
Highly Commended
story in the sub-junior category of the first biannual
Short Story Contest 2018.
A Cuddle of Joy
"Shhh! Shhh! Mama I see something outside the window. It looks very strange. I feel a bit scared. What could it be I wonder!" Shu said to her mother.
Shu's mother cuddled her up and tried to comfort her and made her feel cozy. But Shu couldn't stop thinking about the shadowy figure that she thought was peeping through the window.
"Mama, trust me I really feel something outside. Please let's go out and check, Please."
Shu's constant pushing forced her mother to go outside to see if it was Shu's fear or something there.
And yes, Shu's fear was right. Some strange weird looking creature was hiding in the bushes. They went close to the bushes to see what it was. Groggy eyes…Groggy face…Oh! It was a baby panda. They were stunned to see a panda in their house and couldn't believe their eyes. Shu immediately called her father who came out and tried to reach the small creature. The baby panda was looking very feeble and frightened and not ready to move. Carefully, they took it inside the house. That night the whole family was not able to sleep.
Shu lived in the small village of Sichuan very close to the forest. In the morning, all the villagers heard about the panda coming to the village and all of them flocked to Shu's house. They were all equally stunned and shocked and their mind was full of questions. They all have heard stories of forest animals coming to the village but had never seen a thing like this before. Amidst all this, the creature who was but really scared was the baby panda. The panda embraced Shu tightly as it saw a strange sense of affection and belonging in Shu's eyes. Shu got a bit scared but then she could also feel the warmth of the tiny creature.
All of the sudden the panda started crying. Shu wondered what could it be. Might be it is hungry or missing his home or family. It could be anything. Someone from the crowd got bamboos from his house as he knew that pandas eat bamboo. They tried to feed it but the baby panda didn't eat them. All of them were puzzled. It's face was becoming more and more pale and dull and gloomy. Shu's father went to the city to fetch some fresh bamboo from the market.
When he returned, Shu was not to be seen anywhere in the house. Panda was still sitting unmoved in the corner. So where did Shu go? All started searching for her frantically and were very panicked and worried for her. When all were looking for her, suddenly Shu returned home with a lot of fresh bamboos. Everybody asked where she was but she didn't answer. She went straight towards the panda and the panda also rushed to her. Shu made it eat the food which the panda quietly ate.
Shu's father came to her and hugged her tightly and asked where she was. Shu replied that she had gone to the forest to fetch some fresh bamboos for her friend. She continued saying that just like you all were worried for me when I was away, the panda family might also be searching for poor baby panda and feeling sad. The baby panda might also be feeling lonely without them. We humans can speak but animals can't but they also have feelings for their loved ones.
There was complete silence around and it was decided that the villagers will go to the forest to search for panda's family. They walked and walked but couldn't find a forest as most of the trees were cut. Finally, they reached a dense forest which was lush green and had many bamboo trees. The baby panda became very excited and started making strange noises. On hearing these sounds, two pandas came out from somewhere. Their gestures showed that they were really excited. The baby panda ran towards them. One of the pandas and baby panda started having fun wrestling and they were rolling and cuddling each other.
The people were very elated that the baby had united with his family. Shu's face was rolling with tears. She bade farewell to the baby panda and said, "Dear little panda, I have to go home now. Hope you never get separated from your family again."
Shu was wondering what happy moment it would be for the sweet little panda. We never understand the pain animals must be feeling who are separated from their family and are hunted or put in the zoos. She learnt all creatures share same feelings and deserve equal freedom, love and care.