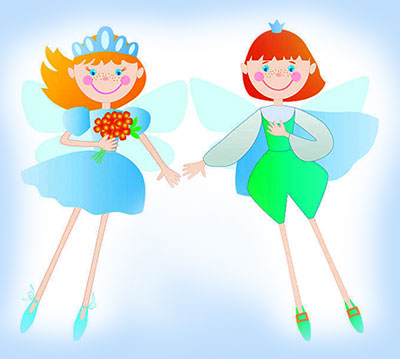 "The Two Little Fairies in the Forest" is one of the outstanding stories of the second biannual International Short Story Contest 2017 written by Aradhana. S, India.
The Two Little Fairies in the Forest
Once there lived a fairy inside a flower bud. Oh yes! She was a flower fairy. Her name is Lyla. She was little like Thumbelina. One day she wanted to see the whole world because she lived in a garden full of flowers. She had another friend, her name was Lily. She was very kind just like Lyla. One day when Lyla thought of going to see the world, Lily was writing something in her note. So Lyla decided to go alone. When she went, she discovered a lot of things. She flew too far and went into the forest. She was flying very deep that she looked back to see if something was chasing her. While she turned back, she hit a tree and fell down. She was okay. She walked to see if she could discover something. She saw a lot of trees. A few miles later she saw a lioness. She asked "What is your name?" The Lioness said "My name is Lia". They talked too much and they became friends. One day she thought about her friend Lily. She asked "Lia, can I please introduce my friend to you?" Lia said "OK but quick before it gets night". Lyla said "Ok". She went in the morning and returned in the evening. They all chatted together.
One day the Lion came with food for Lia. The lion's name was David. He went and killed the animals for eating. When he came back to the lioness he saw the two fairies. He whispered in the lioness's ears "Lia, today night we will kill these fairies and eat them." The lioness said, "No David, they are my friends". The lion said "Oh! okay then I will not kill them but I will give food for them". Lia said "ok". Then Lia asked the fairies "what would you guys eat?" Lyla and Lily said "Flowers and fruits". So every day the Lion looked for animals to kill and eat and also fruits and flowers for the fairies. They had a lovely life together. They were the best family ever you can imagine.
Moral of the story: Be kind and help others. Don't hurt your friends.