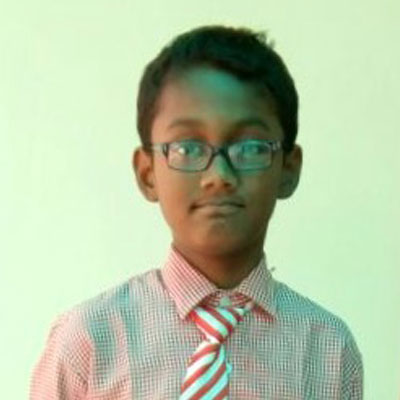 "The Price of Opulence"
by
Aayat Hazarika,
is the
Highly Commended
story in the sub-junior category of the first biannual
International Short Story Contest 2017
which was organized by Kids World Fun.
The Price of Opulence
As Ravi alighted from the school bus and walked home he tried to recall the lines of the poem by Alexander Pope which was "Happy the man whose wish and care, a few paternal acres bound, content to breathe the air in his native ground". His teacher told him "Ravi, minimum requirement and maximum adjustment can make you happy". Ravi was a happy and extremely well behaved child.
He reached the bye lane and was taken aback to see a fleet of media vehicles with their giant antennas and anchors in front of Virender Uncle's house, their next door neighbour.Virender Uncle was the manager of a reputed bank and Ravi's father Prayag Sethi worked in the accounts department of that bank. Both were good friends. Ravi's house had all the basic necessities that a middleclass family was expected to have, but Ravi's father would not part with the tiny Alto car of eight years. They had to postpone their holiday to Sri Lanka to pay a large advance amount for the flat they were living. A secured roof was more important for them and this was explained by Ravi's father to Ravi who understood the situation. Ravi's mother frowned for a while but eventually got to understand. Virender uncle's house had everything that money could buy including his two swanky latest German cars in India.
"What on earth are these news channels doing here"? Ravi thought. The photographers and cameramen were busy clicking. The place was teeming with people including by standers. A couple of police vans were ready to take charge of any untoward situation.
A little later, he could see Virender uncle being whisked away in one of the vans by a couple of stern looking officers. He asked a by stander what was happening. The bystander replied "that fellow has been arrested in a serious corruption case and these officers are from the Anti- Corruption Department."
Ravi rushed home and frantically pressed the calling bell. He was sweating and panting heavily."Coming", Ravi's mother Priya's voice echoed the irritation. Seeing the plight of Ravi, his mother asked with great concern "What is the matter Ravi?"Ravi blurted out, "Virender uncle has just been arrested."
"What"! his mother exclaimed.
They both rushed out only to see three large suitcases being seized and taken away by the officers present. One of the reporters started to report by yelling with microphone in his hand "big and breaking news .Sum of three crores in new currency seized from the manager of a reputed bank Mr.Virender Sinha. Investigations are on" Ravi's mother was in utter dismay.Mr Virender was a very good neighbour and was living a life of comfort. He lived alone most of the time as his wife was a very successful entrepreneur who frequently had to travel abroad. Their only son was well settled abroad. Ravi's mother took him home and after settling down he started to complete his given homework.
It was 8:30 in the evening and Ravi wondered when his father would reach home. Since November 8, Ravi's father had been working overtime at the bank because of demonetization. He reached home very late. After a while his father reached home.
Ravi rushed to open the door and his father gave him a big bear hug. "Papa", Ravi was about to begin, his father called his wife "Priya, dear, Virender is behind bars". "Why", his wife asked. "The price of opulence dear", Ravi's father said. "Opulence, What?" Ravi's mother asked again. Ravi's father went on "Mr.Virender had everything. Why did he have to hide the new currency meant for the public in his home? "Looking at Ravi he said "Son, if you want to be happy, let hard work give you joy"...
"All right, Papa, I will" Ravi replied. His father announced "for outstanding service the bank has awarded me this medal along with promotion". Ravi and his mother were delighted and they both hugged him in joy. The Ravi's had their dinner and discussed the need to be happy and live life honestly.
After dinner Ravi brushed his teeth, wished his parents good night and switched off the light which was his duty. He was about to switch off the lights in the dining room when he paused to read the inspirational verse from the Bhagwad Gita in the framed poster put up by his father. It read:
"Having abandoned ego, force, arrogance
Lust, anger, greed,
Having attained selfless tranquility of the mind
One becomes worthy of being identified
With the Supreme Being"
Ravi felt the poster with his hand and was happy as it did not have even a speck of dust. It was clean like an honest heart. Ravi went to sleep with a smile on his face.