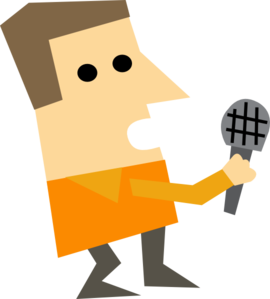 "Leon" is one of the outstanding stories of the second biannual Short Story Contest 2016 written by Blas Schverdfinger, Argentina.
Leon
Leon Lynch always dreamed of becoming a professional journalist. Since he was only six years old, he loved watching television, but not like a normal kid, no cartoons or anything like that. He watched the news. Everyone seemed very smart.
The year he was born, 1988, was a special year. Seoul hosted the Olympics and Leon's father watched this event like it was a religion, but Leon was only 4 months old. The first Olympics he really watched were in 1996, hosted in Atlanta, U.S. This changed his life: he realized he did not want to be a regular journalist; he wanted to cover the Olympics. Going from one sport to another, learning a bit from everything.
After high school, he went to college in Arizona, to study his beloved profession. He worked on many different TV stations, but none of them covered the Olympics so he sent his CV to all the big networks and even to the US Olympic Committee, hoping that someone would hire him.
Four years later, after coming home from a local football game, he greeted the doorman and checked his mail as usual but this time, besides another letter from his mom, there was one more letter; a blue, red and white envelope. The sender: "U.S. Olympic Committee". He couldn't believe it. Leon ran to his apartment to open it.
The letter congratulated him for qualifying and stated that the country was honored by his participation. The letter gave all of the necessary details for the trip to Rio, to The 2016 Summer Olympics! On July 30th he should be at John F. Kennedy to board a plane that would take him and the whole team to Rio de Janeiro, Brazil.
Leon immediately quit his job and started buying all he needed to cover the event. The letter said "equipment will be provided" but he wanted to have his own stuff. The day of his departure, he was very excited. He took a taxi to the local airport to fly to New York, where the team was meeting. When he got to the city, he went straight to the John F. Kennedy international airport.
There were a lot of people waiting outside the terminal, but he still managed to get in. He went to the meeting point and saw the American Delegation. He was astonished. He sneaked by the swim team and as soon as he saw Michael Phelps, he improvised an interview right away. Phelps looked at Leon awkwardly, so he stopped.
A member of the staff gave him his boarding pass and everyone went directly to the gate without passport check. He realized that he was going to sit next to Simone Biles and in first class! During the flight, he spoke a lot with Simone; they even became friends. Ms. Biles said that she admired his routine and that she was looking forward to his performance. When they arrived at Rio a bus took them directly to the Athlete's Village, which shocked Leon because he thought he would stay at a hotel.
The next morning he woke up in a weird room. There was a man sleeping in a bed next to him. Leon recognized him. He was sharing room with Brady Ellison, the archer. He went to have breakfast, but when he went back to his room Brady was gone and there was diving equipment in his bed. There was a competition suit with Leon's last name printed on it. Then he heard someone screaming his name in the hall, so he went to the hall. A staff member was freaking out. He had been looking for Leon for over an hour. He told Leon that he was really late and that he should go to the pool. He got on the bus and went to the pool.
When he arrived, someone told him to go as fast as he could to the dressing room. They gave him a swimming suit exactly like the one in his dorm. He thought that was some kind of tradition or ritual so he went to put it on. When he came out of the dressing room, he was grabbed and forced to the outside shower and suddenly, he overheard the sportscaster of the diving competition say: "next, diver number four, Leon Lynch" Leon couldn't react as the trainer said,
''Come on, boy! Don't panic, you worked so hard for this. Just climb the steps!''
Leon climbed up the stairs of the huge trampoline as he remembered the letter: "congratulations for qualifying". He remembered Simone Biles: "I can't wait to watch your performance".
Leon had been confused with a professional diver!
He had to jump. Of course, Leon didn't want to, and had no idea what to do, so he thought he'd just do a bomb jump. He tried to jump in that way, but he slipped and fell. When he came out of the water, he looked at the public. They were freaking out! Leon looked at the replay. He had done one of the most complicated jumps ever. He made 4 and a half turns! Poor Leon. It was just an accident. Everyone congratulated him when the jury to pronounced 15.9. The third best score.
None of the other competitors managed to surpass him. Leon stayed static at the bench, still shocked. That meant he was getting the bronze medal!
Once back at the Athlete's Village the swim team celebrated until late and even Phelps made a toast for him. Leon kept quiet about his real identity. It was too late.
Leon went back home with the medal hung on his neck. Soon after, thousands of job offers showed up. Everyone wanted him as a reporter because of his "experience". Leon accepted a job at ESPN. He never found out why or how the confusion happened, but he was to be the happiest man on earth.
Mr. Lynch is currently not real and a fictional character.