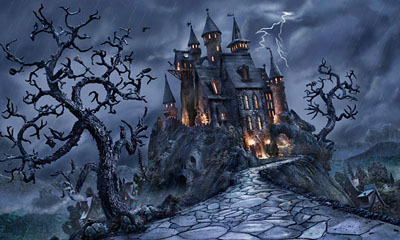 "Haunted" is one of the outstanding stories of the second biannual Short Story Contest 2016 written by Hannah Smit, South Africa.
Haunted
A long, long time ago there was an old castle. It was simply magnificent, with beautiful turrets and even a few gargoyles. The whole building was made from weather - beaten grey stones that had pieces of moss growing on them. The castle was perched on the edge of a vast marsh in the south of England, and it was owned by two people called Simon and Beatrice Gardener.
Simon and Beatrice Gardener had discovered the castle many years ago while on a walk through the countryside, and had been living there ever since, but they were not the first people to own the castle. Hundreds of years before, the original owners had died, but even after death, they had remained inside the castle's walls. These dead spirits were ghosts; their names were Diana and John Miller, and they resided in the castle's dusty, cobweb-filled basement.
For centuries they had stayed there, and they had seen all of the castle's other owners grow old and eventually die. The two ghosts were a couple who had loved each other dearly and had constructed the castle together when they were young. They had lived their entire lives there and after they had died they were buried in the marsh, then they emerged out of their graves as ghosts. After this, they went back to the castle where they intended to stay for all eternity, but they had grown tired of strangers living in their castle, and together they invented a daring and evil plan. A plan that was sure to end their problem.
One night, while Simon and Beatrice were fast asleep in bed, the two ghosts went up and awakened them. Looks of complete shock and bewilderment spread over their faces as they watched the two phantasmal figures with their worn out old clothes and threatening scowls made their way towards them. Then Diana reached out and slid her bony hands around their necks.
"Listen!" She hissed. "This is for taking over our precious castle!"
Then she grabbed her knife and dug its serrated blade into their flesh, but the most surprising thing happened. The blade went straight through them, leaving not even the slightest trace of blood. A horrifying thought entered the ghost's minds. 'What if they were ghosts too?'
It turned out that Simon and Beatrice Gardener were in fact ghosts. They had both died in a forest close by the marsh after being attacked by a vicious wolf, and had decided to make the castle their home. For many years they had wandered hopelessly, and it had been fortunate that they had found the castle. It was the first time since before they had died that they had felt truly happy.
Now, they were deeply angered by the evil intentions of the castle's original owners, and they decided to force them out. "Out!" they shrieked. An aura of menace spread over the entire room like an immense cloak, with every word they spoke. The castle meant a lot to Diana and John, and when they were forced out, they faded away into the marsh, returning to the world of the dead that they truly belonged to.
Image courtesy: worldsstrongestlibrarian.com