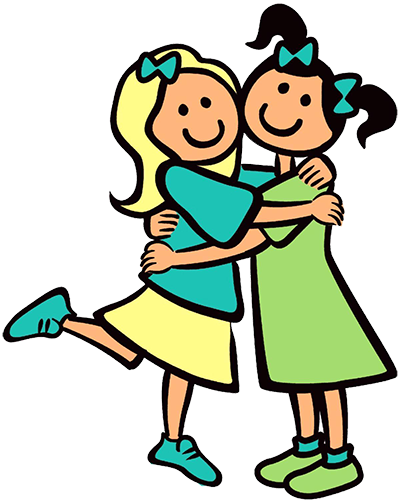 "Friendship Beyond Boundaries" is one of the outstanding stories of the second biannual Short Story Contest 2016 written by Namita Vinod, India.
Friendship Beyond Boundaries
Richa and Aysha were Indian orphans who lived in Burj, a city located on the India – Pakistan border. They were the closest of friends ever since they had been brought to live at 'Aalay', the famous orphanage in town. Richa was only three years old and Aysha was hardly four years then. From then on, the two were together all the time. They used to share the chocolates and other gifts, talk endlessly about their future, and planned to see the world together one day. They were so close-knit that they could not bear to part with each other for even a single day.
One day, there was heavy bombing in Burj by terrorists. Everyone screamed in terror and ran for their life. Richa and Aysha too ran hand in hand, but just then, a group of terrorists came charging towards them. This was followed by gunshots. Amidst the violence, the two were separated. They yelled each other's name, but in vain.
After running for a long time, Richa hid behind a bush sobbing and calling out her friend's name. She was spotted by the Police Chief Mr. Arjun Singh, who took her to his house and offered her food and clothes. Mr. Singh and his wife were childless, and were planning to adopt a child, when they found Richa. They fell in love with her and decided to adopt her. From then on Richa's life changed. She went to the biggest school in town, wore the prettiest dresses, and had lots of toys and toys to play with. However, in all this grandeur she was sad. She missed her best friend Aysha very much. Every night she cried and prayed to God to bring back Aysha. She was ready to sacrifice everything in the world for Aysha.
Her parents realized that their daughter was not happy in spite of all their love and affection. So, they set out to find Aysha and travelled to Burj. They enquired at the nearby houses, army camps, and hospitals. There was no trace of Aysha, and Richa felt disheartened. Since Arjun Singh was the Chief of Police, he had high-level contacts in the Pakistan Police force as well. Soon, they received news that a girl of Aysha's description was admitted in the hospital in the Pakistan border town Wazir.
They immediately boarded the Samjhauta Express and reached Wazir. There they found Aysha lying wounded, her fractured leg held in a sling and bandages all around her head and neck.
"Aysha, what happened to you?" Richa cried in pain and ran towards her. Tears were pouring down Aysha's cheeks. The two friends held each other's hands without uttering a word. But their eyes conveyed the mixed feeling of pain and joy to those around them. Seeing their daughter's joy, Richa's parents wanted to take Aysha too along with them. The hospital authorities and Pakistani Police force were also moved by their friendship. The two little girls had won the hearts of all those surrounding them. So, they immediately made arrangements for Aysha's travel to India. The two friends lived happily ever after at Arjun Singh's home.