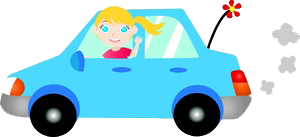 "Beautiful Experiences" is one of the outstanding stories of the second biannual Short Story Contest 2016 written by Roshni K.R., India.
Beautiful Experiences
23rd of April was the last day of school. My friends were rejoicing, but I was gloomy. My father had told me that we would not be able to go vacationing in our home state, Kerala, 'God's own country', since our train tickets were not confirmed.
Tears rolled down my cheeks when I began thinking about how I had spent my previous vacation, chatting and playing with my cousins and grandparents. I prayed that there would be some way to go to Kerala.
Then, on the next day, as if God had listened to my prayers, I was woken up by my sister to be informed that we were indeed going to Kerala - not by train but by our newly bought Indigo Manza. I jumped out of my bed and stared in amazement at my sister who stood quivering with excitement like 5000 volts. I went to ask my Dad whether what I had heard was true or not. He nodded happily and I hugged him. We were to depart from our house the next morning, so my mother was busy packing up for the journey and I helped to find things for her.
I had a whole set of play stuff packed in my backpack as we set off by car. We started our journey at 6 am and we were to go via Villupuram, Krishnagiri, Salem, Coimbatore, and Palakkad. We chose the bypass road so that driving would not be stressful.
The road was as smooth as molten butter and our car touched 120 km/hr in just 15 minutes. The journey up to Villupuram was smooth and we whiled away our time reading storybooks and playing board games. It was not far from Villupuram tollgate that my dad slammed down the brakes and our car came to a sudden halt. What I saw made my heart beat 80 times per minute! A herd of wild elephants was crossing the NH-47!
They smashed the barricades and destroyed plants grown in the divider between the roads. One of the elephants tried to smash the car beside us but it was stopped in the nick of time by its mother. It gave our car a shove and crossed the road restlessly. My mother informed us that these elephants were migrating and that they begin their return journey from the south and east to Bannerghatta via the NH. A team of forest officials immediately arrived at the spot to survey the destruction caused by the elephants.
I asked one of the officials about what my mother told me and he replied that my mother was right. This group of elephants had lost their way towards Bangalore and was finding a way to Krishnagiri to travel to Bangalore along the forests of NH-47. My adrenaline boiled up when he said that the elephant herds sometimes end up killing humans during the early morning or evening hours. I felt how lucky my family was to escape from these wild destructors.
We also saw people, actually devotees, who were walking alongside the road barefooted, carrying pots on their heads, with their forehead smeared with sandalwood paste, and chanting religious mantras, on their way to a nearby hillside temple. They were not at all bothered by the heat and rough conditions outside whereas we were sitting in our AC car!
Our next stop was at Krishnagiri to have lunch. The cool climate at Krishnagiri made our spirits soar high. The breathtaking view of the high Western Ghats were a spot for photographs. However, the statue of a man with a big moustache, holding a sword fascinated me more than the Western Ghats as I had seen this statue at many places along our travel route. I asked my dad about it and he told me that that statue was that of Ayyanar, a spirit believed to protect the village from evils. I immediately wondered how rich the spiritual beliefs of Indian villagers were!
We spent some time savoring the cool breeze and then sped off to Salem. Salem was like Chennai except that it was dominated by a cold climate. We did not stop there for we were already running out of time: we had promised our grandpa that we would be there before sunset, and it was already three o' clock!
The road towards Coimbatore was a rough trail and we were bouncing about in our car. We finally reached Coimbatore at 5 pm and decided to inform grandpa that our promise would not be fulfilled. We were greeted by a large field full of windmills, all mildly spinning and producing electricity for that entire village. It was heartening to see a view, which I had seen only in my science book. We stopped for some snack and it was then that a small girl of about my sister's age came crying to us and begged for some money telling us that she fell down while boarding a crowded bus and that her family had left without knowing that she had been left behind. She told us that she wanted to go to Pallakkad where her family had gone. They were going on a vacation to their grandparents' house. We asked her to join us for we were plying by the same route to our grandpa's house. Her face brightened up and she praised us for being so kind hearted.
We finally reached Palakkad as fast as we could and by then, the girl had become friends with my sister. It was easy to spot her family for they were weeping and crying at the bus stop for their absent-mindedness and was ready to board the next bus back to Coimbatore in search of their daughter. We stopped at the bus stop and they stood and gaped, not believing what they saw – their daughter back again. The girl leapt out of our car thanking us at the joy of seeing her family. The family hugged her and asked her to forgive them for their absent-mindedness. They then came to us imagining us as Gods who had come to save their daughter. There was no end to their praise and we felt proud to have reunited a family. We said 'good bye' and got into our car, feeling as happy as ever.
Next, we came across a river named Bharathapuzha, which was so wide and long, which my mom told me was the longest river in Kerala. People were bathing there and we too took a break and washed in the cool waters, which were very refreshing. We also tried our hands at fishing with the help of a local person and my sister was lucky to actually catch a 'vraal' fish. However, she immediately felt sorry for it and threw it back into the river.
We then sped off to our grandparents' house in Anamangad and finally reached there at 9 pm. My grandpa was as worried and at the sight of us arriving safely, his face brightened up. We greeted our grandparents who were in the seventh heaven of happiness. We then got into our house and narrated all the incidents that had happened in our journey. My grandparents listened with great amazement and their eyes almost fell off their face when we told them about rescuing a girl. Our grandparents felt proud of having such kindhearted children and grandchildren.
That night was the happiest and most satisfying night I had ever had in my life. I never got any sleep thinking about the incidents of the day. I felt that that vacation had started off with a bang!