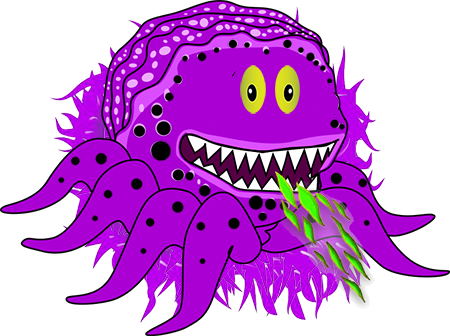 "Aliens are better than Humans" is one of the outstanding stories of the second biannual Short Story Contest 2016 written by Saim Ahmed Siddiqui, Pakistan.
Aliens are better than Humans
It was a dark, shadowy night. The street lamps were dim while I was returning home from my friend's party.
Soon a strange and weird cold filled the air, and it made me shiver. After about two minutes, it started to drizzle. Suddenly, I saw an enormous and shimmering object in the sky. For a second I thought I was dreaming but when the object came a little closer to me, I realized that it was real, it was palpable. It was making a buzzing and fizzing sound. I realized what that thing was. It was a spaceship, a huge one.
I was near my home but was very frightened because I thought the aliens had come from Mars or any other planet to take me away and then they would cut my head off and do some experiments. This thought gave me a freak.
The spaceship landed on the road in front of me, and a ladder swung open. An ugly, fat, husky, and monstrous creature stepped down towards me. It had two eyes placed vertically. Its skin was purple with black spots on it. It had a large sized mouth drooling a green color liquid. I thought maybe he was going to eat me up. I was so much horrified that I was unable to move a bit. It was a terrifying creature that could scare anyone out of their wits. It had no legs. The alien crawled along the ground. He came and stood in front of me.
I was too frightened to say a word but suddenly I heard the alien saying," Greetings Tellurian, do not be afraid of me. I know I look scary. I'm the king of the 'Red Planet' Mars and I'm here to visit the Earth because I've heard that Earth is the most beautiful planet in the Solar System."
"So aren't you here to eat me?" I was still afraid to say a word but I managed to say it.
The king replied, "No, my friend I won't eat you. I do not eat people. We aliens are not like that. So will you take me?"
It was hard to believe a stranger, especially an alien, but I replied, "Okay."
As soon as I said ok, he pushed a button and we disappeared into the spaceship. For a minute, I couldn't open my eyes because of the too bright lights but then slowly my eyes started to open. The spaceship was massive, and was surrounded by bright lights. There were four other aliens in the spacecraft. Two of them were the King's guards; one was the spacecraft's driver and the other one was the Queen of Mars. The guards were strong and had guns with them. The Queen was also purple in color but had green spots on the skin. She did not drool and she was not terrifying like the king. The driver was blue and had pointed spines on its back. They all greeted me warmly.
The spaceship started to fly. I still couldn't believe that I was with the aliens. There was complete silence for some minutes, and then the King broke the silence by asking, "Which place will you take us to?"
"Which places would you like to go first? Natural or Man-made? " I questioned.
"Take me to natural places first," the king replied.
I told the driver to take us to Lake Reba in Senegal. We reached there in a second or two. I was surprised at how fast the space shuttle could travel. I told them that this lake was also known as Pink Lake because of Dunaliella Salina algae, which made the water look pink. They all were very happy to see such a beautiful lake.
Then we went to Zambia to visit the amazing Victoria Falls. Then we went to China; there we saw Zhengyi's Danxia Landscape-Rainbow Mountains, Zhingjiajie-Precipitous Pillars and The Li River and Yangzhou-China's most beautiful karst landscapes. After China, it was time to go to Canada to see Niagara Falls-one of the most beautiful waterfalls in the world. They all were stunned by seeing such lovely and gorgeous places like these.
I said, "There is a lot more heavenly places left to show."
"No, no, the places you have showed us are enough to say that Earth is the most beautiful planet in the whole Solar System," the King replied happily. "Now you can show me the human-made structures."
I was happy also because the places that I was showing them were never seen by me also in real life. I had only read about them or seen them in pictures.
Now it was the turn for man-made attractions. We started from the Taj Mahal; then we visited the Great Wall of China, and the Leaning Tower of Pisa. Then I showed them the Statue Of Liberty, The Statue of Christ the Redeemer in Brazil and The Pyramid of Giza. It was our last stop.
They were seeing it when suddenly an explosion took place 'Bang!' We were shocked! It was a bomb blast. They asked what that sound was. I was ashamed to tell them that it was something that kills human beings but I told them what that was. I told them that Earth is a beautiful planet but it is dangerous too because of its deadly weapons. Humans are the ones who spoil the Earth by spreading terror by creating such gadgets that destroy the nature.
They were very disappointed and anger filled them. The Queen said, "We should not have come to this planet. It is much better to be on our own planet because there are no deadly instruments there. There are no people there who spread terror. This is our first and last experience of visiting Earth and we'll never come back again."
They dropped me to my home and suddenly I woke up and said, "What a dream that was!" and thought that I would try my best to save the Earth, ban weapons and spread peace in the world.