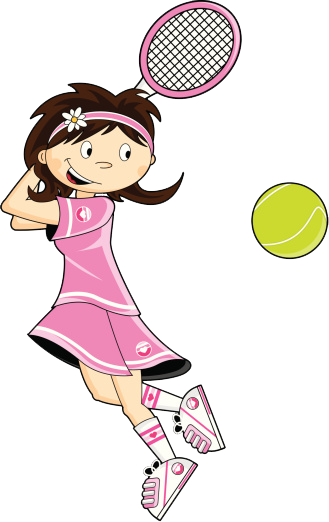 "Achievement Through Determination" is one of the outstanding stories of the second biannual Short Story Contest 2016 written by Hannah Chachu Punnoose, U.A.E.
Achievement Through Determination
Janette, Miranda, and the twins Peg and Meg were in third grade at Maldives Boarding School. They were best friends. All did very well in their studies, except Janette. She did not care about anything, was not worried about anything and did not even get good marks in exams.
One day Jade, the sports captain of the school, was selecting members for a team for a tennis match for juniors to compete with another school. She saw that Meg and Peg were great players and also thought that Janette would make a great server for their school team as she had seen Janette practice with the twins. She decided to talk with her at night.
Late at that night, she called Janette to her room, and talked about the match to her. She said, "I would like to make you the server girl and to go along with the twins to compete with the other school, but you have to promise me that you will work hard like the twins every day, because I think you have the talent to play tennis." Janette thought about it, like anybody would. She was excited about it but was not ready to let the pressure get into her. So she replied, "I would love to but I don't want to work hard. I just want to help the twins, so you can choose another girl." So Jade had no choice left and chose Miranda as the server girl.
The next morning when Janette met the twins, she told them all about what had happened. The twins were surprised at what Janette had told them, and said, "Go back to Jade and tell her you will be the server girl." The twins tried so much to convince her but Janette was still not convinced. So even the twins had no hope left and went to class.
When Miranda came to know she was chosen to be the server girl, she was thrilled, and spread the news that she, Meg and Peg were going to compete with another school. Everyone congratulated them and wished them best of luck. All the girls were ready but Miranda was afraid that she would mess up.
The next morning, all three girls got ready and checked if they had forgotten to pack something. All of them, including the sports captain, got in the bus and was ready to go. Janette saw the bus moving and wished she had also been in that bus.
The game started, and the Maldives were getting high scores. But unfortunately Meg's leg got twisted and Miranda had to take her place. She was very nervous. She could not hit the ball properly and the Maldives school lost. There was a loud cheer for the other school.
They went back to their school and announced the bad news. Janette felt bad because she knew if she had been ready to work hard, she would have been the server girl and they could have won the match. From then on, she promised herself that she would work hard and put her mind into achieving her goals.
Gradually, Janette began to invest more effort in studies. Her results began to improve. And who knew she just had to put a little effort in studies and she actually got excellent marks. She was good not only at studies but also at sports. The next year she was chosen as the head girl of fourth grade.
Maybe who knows, she could be the head girl of the whole school once she grows up, with great determination!