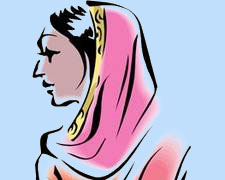 "A Mother's Understanding" is one of the outstanding stories of the second biannual Short Story Contest 2016 written by Udheyami, India.
A Mother's Understanding
A couple of decades ago, there lived a woman named Mrs. Sridevi. She was in her mid-fifties, and was living alone in a small hut on the outskirts of the village, which is situated near Satya Mangalam Forest in Erode district in the state of Tamil Nadu in India.
Generally, every day she seemed to be sad, gloomy, and moody. However, that day she was very active, happy and in good mood. She cleaned her hut and prepared nice and delicious food, because her son was going to come from the town.
After some time, somebody knocked on the door. Sridevi opened the door. She saw a stranger standing there. He looked to be around his twenties.
"Who are you?" she asked.
"Madam, please help me. I happened to kill a person. Now many people are chasing and searching for me. They may hit me to death. Please give me some place to hide and save myself," the stranger said.
The woman asked the stranger in a tone of interrogation, "Did you accidentally do it, or was it on purpose?"
The boy convinced the woman of his innocence, saying that he had shot an arrow to kill an animal while hunting, but that the victim had suddenly come in between.
Sridevi asked again, "But why did you want to kill the animal?"
"I wanted to sell it and get some money for my mother's treatment. My mother is ill."
Sridevi took pity on him, and asked him to go inside and hide.
After few minutes, they heard the voice, rather the noise, of the crowd. Someone knocked on the door. She opened the door.
One of them asked Sridevi, "Did you see any stranger this side?
"Why?" she asked.
"He killed someone. We have the dead body."
Sridevi went with the crowd and looked at the dead man. To her utter shock, she found out that it was her own son!
She was overcome with sorrow, and was broken hearted. However, she controlled herself. She thought that if she handed over the stranger inside, another mother would lose her son. She made up her mind.
"No, I have not seen anyone. If I see, I will call you," she said.
She shut the door of the hut and turned off the stove. There was no need to do any cooking now.
After the crowd had gone far away, Mrs. Sridevi said to the stranger, "Please go to your house. Your mother will be waiting for you."
After saying this, she burst in to the tears. The stranger bowed down, and touched her feet as a mark of gratitude. He did not have words to express how he felt.