Current Affairs » America has a new President: President Donald Trump
America has a new President: President Donald Trump
Donald Trump was sworn in as the 45th president of the United States of America on 20 January 2017. Supreme Court Justice John Roberts administered the oath of office to President Donald Trump as his wife Melania Trump and his son Barron Trump looked on. The swearing in was with two Bibles: His own, a gift from his mother, and the one Abraham Lincoln used at his first inauguration in 1861. A few minutes earlier, Mr. Trump's Vice-President, Mike Pence, was sworn in by Supreme Court Justice Clarence Thomas.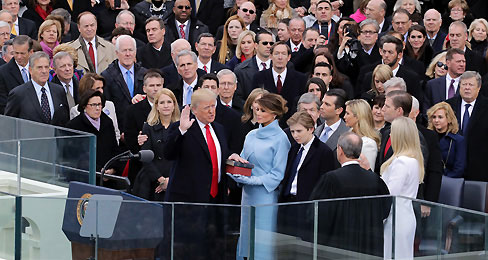 President Trump went on to deliver his Inaugural Address, in which he reiterated the message that was his presidential campaign theme: Make America Great Again. Trump's swearing-in gives Republicans control of both the White House and Congress for the first time since 2006.
In attendance was former President Michelle and Barrack Obama, Hillary and Bill Clinton as well as George W Bush and Jimmy Carter, and their first ladies. Trump appeared to shake hands with his Democratic opponent, former secretary of state Hillary Clinton at one point. "How are you? Thank you for coming. Thank you," Trump said.
The inauguration day was not as ceremonious or crowded as it was for Obama's inaugurations in 2009 and 2013. As Trump's parade rolled down Pennsylvania Avenue, passing crowds often stood just two people deep. In downtown Washington, bunches of peaceful protesters marched with anti-Trump signs, and small groups of black-clad anarchists clashed with police setting fire to trash cans and a limousine.
After the inaugural parade ended, President Donald Trump signed his first executive order in the Oval Office directing agencies to ease the regulatory burdens associated with the health care policy instituted by the Obama Government.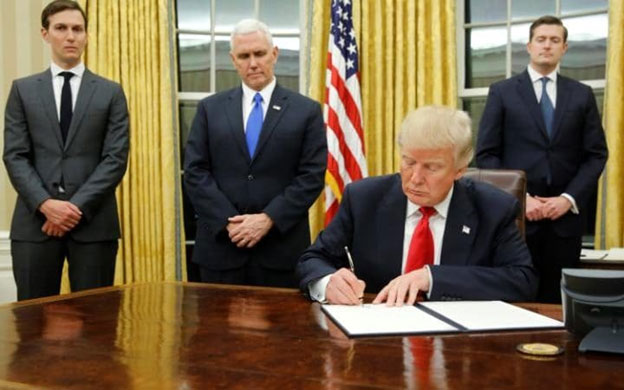 The first foreign leader to meet President Trump and hold talks may be Theresa May, Prime Minister of Britain, who may arrive in Washington in the coming week. Another top policy goal is to defeat Islamic terrorism. Of particular importance is to end relying on oil imported from foreign counties, and expand America's own fossil fuel production. President Trump may reverse the climate change regulations instituted during the Obama era. The U.S. Senate showed the green flag to two cabinet appointments: retired Marine Generals James Mattis and John Kelly. Mr. Mattis was named Secretary of Defence while Mr. Kelly was appointed Secretary of Homeland Security.
Canadian Prime Minister Justin Trudeau offered his congratulations to Mr. Trump on his inauguration, hailing the Canada-U.S. relationship as "one of the closest relationships between any two countries in the world." In Russia, officials and lawmakers applauded Mr. Trump's inauguration, hoping it will bring in a period of better ties with the United States.
The event signalled the end of the Obama era. The Obamas welcomed the Trumps to the White House, and after the inauguration, left the Capitol in a military helicopter. Barrack Obama addressed a staff gathering at Joint Base Andrews before departing for a vacation in California.
Image courtesy: