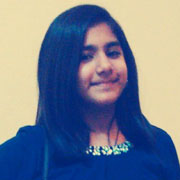 "The Dancer Who Dreamed"
by
Dhruvika Kumar,
is the
Highly Commended
story in the junior category of the first biannual
Short Story Contest 2016.
The Dancer Who Dreamed
Delia Henderson lived with her parents in New York, America. Today Delia had turned 14 years old. Like every 14 year old Delia also had a dream. Delia dreamt of taking part in the 'Dance World cup'. It was a prestigious dance competition which attracted the best dancers around the world. She was promised by her father that someday she would be taken for an audition.
Delia and her family had just finished celebrating Delia's 14th birthday. It had become late, and everyone was tired. Delia was in her room lying on her bed when she heard loud noises. Her mom rushed in and told her there was an earthquake! Delia along with her family rushed out of the building, luckily on time. The moment they stepped out of the building it collapsed. Her family held hands and ran somewhere far, to a wide plain land. Delia had hurt her leg. Her dad told them to wait while he went to rescue some people, Mom disagreed but he didn't listen. The shaking stopped. Delia, her sister and mom were relieved, but dad hadn't returned yet.
Delia had lost her dad and injured her leg badly.
Moving to Chicago was tough. The moment they landed, Delia's grandparents picked them and dropped them at a hospital where it was told that Delia had injured her leg terribly and it had to be amputated. Losing her father was devastating and because of her leg she wasn't sure if she would dance again.
In a year's time they settled down and began a new life in Chicago. Delia learnt how to walk with the injured leg but gave up on becoming a dancer.
One day, Delia saw a notice, saying that auditions of 'Dance World Cup' would be held in America, Chicago. Painful memories flashed through her mind. It hurt her that she couldn't live her dream because of her injured leg. However, her mother said, "You learnt to walk with your injured leg, so why not learn to dance with it?"
Delia knew it was true but walking was hard, and dancing would be harder. Anyhow, she decided to participate. She was given a month, which was the hardest month of her life. She practiced a lot.
"Mom, I'm very scared," Delia said to her mother as she was driving towards the venue. "It doesn't matter, you just give your best!" said her mother. They reached the hall, and Delia was sent backstage. In 15 minutes, a lady informed her that it was Delia's turn.
Delia was shivering with fright, as she walked up to the stage. The audience gasped seeing her leg, which made Delia more nervous. Delia was living her dream but was scared; anything could happen.
Then, someone held her hand, and she turned to see: It was her dad! Tears rolled out of her eyes; she wanted to ask so many questions but she was speechless! Her dad said in a whisper, "dear, you are living your dream. Don't waste it because of your fear. I am right here and will always be by your side."
The music began and she began to dance beautifully. The music stopped and her dad waved goodbye. The entire crowd, including the judges, stood up and clapped for her. It was the best moment of her life. She got off stage and her mom hugged her crying, and said "You were brilliant! I am so proud of you dear."
In an hour's time, the judge came up on stage and announced. "There are 3 selected from 500 people, the first Roy McGuire, Second Lauren Zeigler" everyone applauded, "and the 3rd winner is an inspiration for all of us, with a wooden leg she killed the dance floor, she is none other than Delia Henderson!" Delia hugged her mom. Delia couldn't believe what had happened, she was living her dream!
Delia didn't win the Dance World Cup but surely won everyone's hearts. Delia had become an inspiration for young dancers around the world. Her famous saying is;
"ONCE DANCE ENTERS YOUR HEART IT CAN NEVER LEAVE."