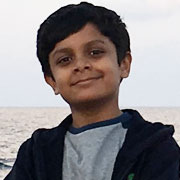 "Rodent Aboard!"
by
Jayanth Ramganesh,
is the
Highly Commended
story in the sub-junior category of the first biannual
Short Story Contest 2016.
Rodent Aboard!
We were just returning from our vacation back to our home place, Sharjah.
The flight was in the evening. We found our seats and buckled up nicely. I took out my comic book and started to read it.
Sometime later, my dad told me to get some sleep. I flipped the comic book shut and kept it inside my favourite blue backpack. I reclined my seat's backrest and fell asleep almost immediately.
I didn't know how long I would have slept. But suddenly, I woke up, startled by some loud noise. I heard screams coming from the rear of the plane. I blinked my eyes repeatedly and forced myself awake. My dad was already awake. We strained our necks to find out what was causing all this mayhem.
"Rats! Rats!" screamed someone. "AAAAH! A big furry rat ran over my foot!" screamed a lady from the one of the rear seats. Immediately, everyone tried to get up from their seats in panic.
Hearing the commotion, the cabin crew rushed to the spot and tried to calm the passengers down. I gingerly put my feet up on my seat. Boy! I was scared of rats.
It took time but somehow, some calmness was restored by the cabin crew.
Luckily, our destination airport was nearby. We soon landed there and all of us were allowed to get off the aircraft quickly.
We got back to our home just before midnight, and slept soundly. When I woke up the next morning, I had almost forgotten about the crazy experience on our flight back home.
In the morning, after breakfast, I started to unpack my blue backpack in my room.
My dad was reading the newspaper to my mum in the living room. I could hear him in my room. There was an article in the newspaper about the rodent in the flight the previous night.
The article went thus – "Yesterday night, there was an incident aboard a Sharjah-bound aircraft, which required further investigation and reporting by the Sharjah Airport Authorities. There was a rodent scare on the flight half an hour before landing time, which caused a lot of commotion inside the aircraft."
I pulled out my cap from the backpack and put it on my table. Next came the comic book, earphones and iPod.
My father continued reading - "All the passengers were swiftly disembarked from the aircraft upon landing. The maintenance team checked the flight thoroughly, and were unable to find any rats or rodents."
Now, where was this tennis ball that I carried on the trip? I remembered stuffing it in the outside compartment of my bag.
My father read the last line of the article – "However, the maintenance team found an unclaimed tennis ball below one of the seats of the aircraft and they suspect that it had been rolling around the floor of the plane while the aircraft was descending for landing, thereby causing all the trouble."