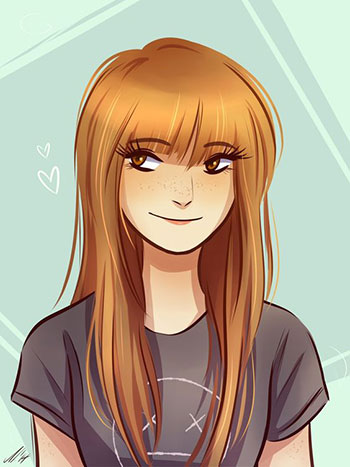 "An Unexpected End" is one of the outstanding stories of the first biannual Short Story Contest 2016 written by Duygu YARIMBAŞ, Istanbul, Turkey.
An Unexpected End
It was a rainy day. The weather was cold and dark. I was walking pointlessly. The streets were empty. It was Sunday and many people were sleeping in or spending their day with their families.
I don't know how much I walked. It wasn't raining anymore. Then, I felt tired and sat on a river bank. All of a sudden, I heard a soft voice.
"Excuse me, this place is free, isn't it?" she said.
"Yes, it is," I said.
The woman had a pretty dress on, and had long wavy brown hair. She was thin and of medium height. I wondered why she had chosen to sit with me although there were many other places to sit. Then I looked closely at her face and remembered her. She was my old friend. We were together six years ago at the university.
"I can't believe my eyes. I didn't expect to see you again, Kate."
Smiling, she said, "This is a big surprise to me too. Actually I was just taking a walk, but I don't know these streets enough that is why I'm lost. But now I have found you."
"You must be new in here."
"Yes, I moved here two weeks ago."
"How is it going? Do you work somewhere?"
"No, I don't work. In fact I worked for two years after university. Now I live alone in a big house near that café."
"Living alone in a big house must be difficult and boring."
"It's. Tell me about your life. Do you work somewhere? Are you married?"
"Yes, I'm working but I still live alone."
"Can you show me around this city?"
"Of course! First I'd like to have coffee with you. Why don't we meet?"
"Great! 4p.m. is fine for me. Shall we meet at the café near my house?"
"I'll be there."
She smiled at me and left. I was happy to see an old friend. After a while, I left the park and walked home.
I always walk back home from work but that day I took a bus because I didn't want to be late for the meeting with Kate. Wanting to me on time, I quickly ate something, and walked to the café around 3.55 pm. She came about fifteen minutes later. She was wearing a beautiful dress, and smiling.
"I'm sorry I'm late."
"No problem"
While we were having our cakes I asked why she had moved here, but she wasn't willing to answer the question. She looked tense although she smiled.
"Are you OK?" I asked.
She kept her silence for a while and replied.
"No, but it doesn't matter."
"Is there anything I can do about it?"
"Unfortunately, nobody can help me about this anymore."
I didn't understand her. She continued,
"When I was a little girl I dreamt of going far away. School and lessons were really boring for me. Now I'm thinking about this dream again. Maybe it can be real now. If it can't be real now, it'll never be."
"Will you really do this? Where will you go?"
"I'm bored here. I need to do it. I have planned everything."
"So, where are you going to go?"
"I want to go to the countryside and stay at my friend's home. My friend has gone abroad and she has given me her house keys. I want to rest and relax, without buildings, people, traffic or any mess. If you don't mind, I would like your company."
"I'd like to join you, but I'm afraid my boss may not let me. If he does, I'll be glad to join you."
"So, if your boss lets you, we will meet at the city centre. I'II be there. You can find me easily."
She gave me her phone number.
It was difficult to get permission, but my boss finally let me off. I went to the city centre, but Kate wasn't there. I waited. I waited for about two hours but nobody came. I was angry. I thought she wasn't honest with me. She didn't answer my call and didn't return my call. I thought she was a liar.
That happened about two weeks back. This morning, I looked at my posts and saw an envelope. The sender was Kate. I opened and read it. The letter was dated two weeks back.
"Dear Will,
I'm in a hospital now. I'm really ill and I can't take it anymore. After university I was diagnosed with cancer and doctors have given up on me. I apologize. Unfortunately my dreams will never come true. I'm truly sorry."
I was stunned and then angry with myself for not guessing it at the time. Something told me that I would never see Kate again. A feeling of emptiness crept up inside me.
Time had separated Kate and myself once. Now, time had taken her away from me.