Coincidence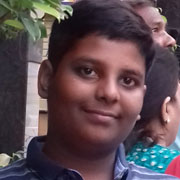 "Coincidence"
is one of the
outstanding stories
of the first biannual International Short Story Contest 2018 written by
Abhinav Agarwal, St. George's School campus 2, Agra, India.
Coincidence
Once there was a boy named Rohan. He was neither good in studies nor in sports. Everyone called him a foolish guy. Sometimes he became too sad because of all these reasons. He never got good marks or any prizes and even he was not allowed to take part in any competition. He had a classmate named Rahul who was very good in studies and sports. Everyone honoured him and liked him. Rahul was rich and Rohan was poor. Rahul always used to make fun of Rohan by looking at his dressing sense and his belongings. As Rahul was rich, he always used to bring expensive gifts for his friends and became more famous. But one thing he did not knew that his all friends were always behind his money not him. But Rohan was always before him not his money. It was decided by nature or was only a coincidence that they both studied in the same college.
But once time changed!! Rahul and Rohan were of seventeen years at that time. Rahul's father who used to give much money to him lost all his money in the share market. He had bet all his money and lost all. Rahul became much poorer and poorer. Rahul became too poorer that he did not have money to study and even to buy food. He asked for help from his friends but no one helped him. Some of his friends somehow helped him some way but it was not enough. Even his family members refused to help him. And what about Rohan as it is said God helps them who help themselves. Rohan had not stopped believing in him. His one and best quality was his arts. He could draw anything as real as can be. Once he took part in the Indian Arts Programmes (IAP). He got 2nd prize in that competition in all over India. The prize he got was a cheque of rupees 2 lakhs and a job offered to him in the Indian Arts Service For Entertainment (IASFE). This was the time he could do something, he could show to the world what he is and what can he do. He joined the job and became a famous painter.
What do you think what would have happened with Rahul? When he came to know that his classmate Rohan had touched the limits of sky he felt too guilty for him because of the behaviour he did with Rohan. Before he had forgotten about him because of the problems he was facing. Rohan had not forgotten about him but before the competition he thought how could he help his friend but now he could and so he did. Rahul could go back to the college again and now he studied with full concentration as he knew that it was the second and last chance that God has given to him. He soon started excelling in all subjects especially mathematics. He loved Maths it was his life. He wanted to be a mathematician. After few more years of study and practise he soon became a well known mathematician. Then he realized wherever he was, was because of his friend. They both became the best of friends then and this time not because of their wealth but true friendship grown in them. If a single problem came on one friend, the other became too worried that it was his problem. Their friendship spread throughout the city. People gave examples of their friendship to define friendship...