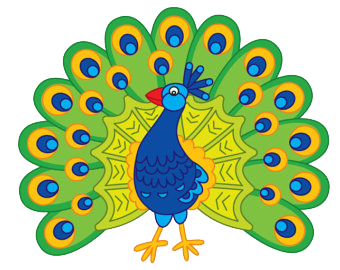 "The Golden Peacock" is one of the outstanding stories of the second biannual International Short Story Contest 2017 written by Aishvarya Dinesh Choumal, India.
The Golden Peacock
Mostly during rainy season the entire forest of Gir, situated at Gujarat, India was full of greenery, several types of plants, trees, flowers, and different species of insects, birds and animals. Kingdom of Mother Nature spread from East to West and North to South. Everywhere happiness springs out, flowers blossomed; hills wore cloths of clouds and crown of rainbow.
But unfortunately this year even after one and a half month of the rainy season, there was still no sign of rain. Gir Forest was waiting for its first rain of the season to fulfill thirst of plants, trees, birds and animals. Due to this King Lion Shersingh was worried as he was the one who looked after the whole Gir Forest and all its residents.
One day King Lion Shersingh with several birds and animals were wondering in search of drinking water, but they were not able to find even a single drop of water. When they reached deep inside the forest of Gir, suddenly they found a beautiful Golden Peacock. The Peacock introduced itself as the messenger of rain. The Golden Peacock was dancing on a small ground near a big Mango Tree. What a surprise…!!! Some groups of clouds were showering rain only on the feathers of the dancing Golden Peacock.
King Lion Shersingh, all birds and animals of Gir Forest hid themselves behind the bushes. But, as Tony Monkey made a noise, The Golden Peacock got disturbed and stopped dancing, with this, the rain also stopped.
The Golden Peacock asked, "Who is there and what are you doing here??"
All birds, animals and King Lion came out and said, "Sorry" to The Golden Peacock and told their story that how they are waiting for rain to save their lives.
After listening The Golden Peacock said, "Mother Nature, Clouds and Rain are angry with all of you in Gir Forest, because you waste a lot of "Rain Water" and you do not take any care to store drinking water, which is the lifeline natural resource for everyone."
"If every resident of Gir Forest take an oath to stop misuse and wastage of rain water, and also promise to grow more plants, trees then I will request Mother Nature to again shower rain on Gir Forest", The Golden Peacock told all birds and animals. King Lion Shersingh, Tony Monkey, Motu Elephant, Kudku Rabit, Blacky Crow, Chuchu Sparrow, Dodo Parrot, all other animals and birds of Gir Forest said "Sorry" to Mother Nature, Clouds and Rain. They also promised to "Never waste drinking water, always grow more plants and trees and take care to store and harvest rain water for themselves & future generations too."
After hearing this sky of entire Gir Forest became full with black-black rainy clouds, lightning started to strike, loud thunder sounds started and within a matter of seconds it started raining. Now everyone of Gir Forest became responsible towards conservation of all natural resources. Every bird and animal had a happy, smiling face and was now dancing with full of joy. They paid their heartfelt thanks to Mother Nature, Clouds, Rain and The Golden Peacock.
Moral: We should use natural resources like drinking water, fresh air, forests, rivers and all other natural resources responsibly.