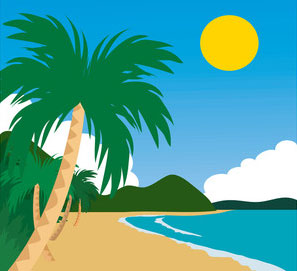 "A Realistic Dream" is one of the outstanding stories of the second biannual International Short Story Contest 2017 written by J Kruthi, India.
A Realistic Dream
This story is based on my dream of joy, fun and memorable moments with my family. Finally, school term holidays were on set. Dad made a list of places of the tour. My ultimate dream was going to Mumbai because I love Mumbai and spending time with my cousin. There are many places to visit in Mumbai and the most interesting place is a city which is 100 km far called as Alibaug which is also known as archipelago of gods. Most of the islands are surrounded with greenery all around. I was very excited that I was going to enjoy these holidays with my sweet cousin.
The other thing which made me overjoyed is that for the first time I was experiencing a flight journey. We were all set to go, all the luggage's were packed by my mom and we were ready to go. We have to be in Hyderabad at 2:00 pm. But there was a small inconvenience which was a delay in flight for 15 minutes. We took our departure there in Hyderabad and arrived at Mumbai at 4:00 pm and my uncle was already there to pick us. I was very happy and very excited to see my cousin, my aunt and taste her delicious plum cakes and cookies. We finally reached home. I know my cousin will be eagerly waiting for me and I jumped out of the cab and gave her warm hug. We went inside the house. There aunt was busy making my favourite food.
All the luggage were carefully placed and as usual my mother was busy chatting with aunt and helping her. Dad was so tired that he went to sleep and my brother, me and Muktha were in great excitement. We went out to play shuttle, my cousin Muktha is a national champion and I am just a good player. Then we played for a long time and were so tired that we came back home and had a refreshment with tea along with the cookies which my aunt baked. At night while we were enjoying the feast dad announced about the next day's tour plan. Then we were all ready with our cameras.
The next day we got up early in the morning. There were a number of beaches to visit. As we had limited time we have chosen the best five places and in those five beaches one of the beaches was an island that we can reach by walking. But it is dangerous to be there for a long time as it is semi monsoon there. Then we had our breakfast, at the same time I decided not to wet my clothes in those muddy water.
After lunch we went to a park for a short break and this was the day for which I was waiting for a long time. The faith beach was unique from the rest. I felt terrified when I heard the sound of the waves and saw those high tides. I have hydrophobia which made my heart pound and I did not go but my cousin free from all phobias enjoyed. She forced me but I was very scared. Then she came towards me and told, "Don't be afraid, just follow me. I am here with you." I trusted her and went along with her holding her hand very tightly. We were walking slowly with my brother, dad, mom, uncle and aunt in front of us. The water was till my ankle on the way to the island.
Finally, we reached the beautiful rocky island. There the water was very pure everywhere. There were lots of coconut trees and squirrels. I started my photography and I got many beautiful photos of that island. We rested on that sand for some time. A squirrel was tickling on my hand, it was a small one. Mukhtha had some grains to feed it. There was a cold breeze and after some time there was a tremendous blow of wind where I could not balance myself on the slippery rocks. Dad noticed that the water was rising so we started moving towards the beach.
Again, water was rising very fast. This time water was till my knee and it became difficult to walk. I tried my level best to walk faster and Muktha was struggling hard too. I held her hand and moved forward. When we reached the beach, my jeans was already wet which made me uncomfortable. We were able to see the high tide. The Alibagh trip was joyful and also fearful. We happily completed the tour and came back to Hyderabad. I was sad to leave Muktha. She too felt sad and I will miss my aunt's love and affection. This story is all about my journey to Mumbai with my sweet cousins and cute family.
Moral: Dream big. Never stop dreaming, the more you dream the more you try hard to achieve your dreams.