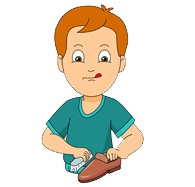 "Where there is Will, there is a Way" is one of the outstanding stories of the first biannual International Short Story Contest 2017 written by Sneha Acharya, Nepal.
Where there is Will, there is a Way
One rainy morning, I left for my school with my 7 year old brother. As usual, on the way I saw a beggar. He used to wear torn clothes and was maybe about 8 years old. Every day, he used to sit in front of his hut and beg. That morning, the beggar boy was crying very loudly. I felt pity on him. So, I gave him a packet of biscuits that I had packed for school. He was very happy. From that day on I started to give my munchies to him.
But one day my mother came to know about this. She rebuked me, "Why do you help that beggar? He has two hands and two legs to work".
I replied, "Mother, but he is so small. How can he work?"
She stared at me with a dangerous eye and ordered me never to talk to him again. After two months, the beggar came running towards me and with great expectation he said, "Please give me some money".
"Is only money and food valuable for you?" I scolded.
He simply replied, "No, education is the most valuable thing for me."
With tears in his eyes, he began to tell his story, "We were a well off, happy and small family. My father was a farmer in a small village and for earning money and to educate me, he came to this town. As he was uneducated he got a job at an industry as a laborer. One day while working with a huge machine, he lost both his legs. All the money he had earned went for his treatment. My mother couldn't bear this and she committed suicide. She had also hung me with a rope so that I wouldn't suffer in a world without her. But luckily, I was saved. Now, my father is still in a wheel chair in this small hut. I want to study in school so that father and I should not have to suffer in the future. But, sometimes, I think if I had died, I wouldn't have suffered now."
The words of the beggar struck my heart. I was speechless and moved towards my school. The entire story what he had told me, was repeating in my mind, I wasn't able to bear it for long. So, during my break, I called one of my teachers and asked,
"Teacher, can you help a beggar who wants to be educated?"
She replied, "I wish I could, but I can't. Although, I will help him for admission, I won't be able to always help him to pay the monthly fee. You can ask the Principal regarding the possibilities". However I didn't ask the principle because the answer would have been the same. I thought a plan by myself. After I reached my home, I took all the money from my piggy bank.
The next morning, I left for school. I bought some shoe polish and a brush and I went straight to the beggar. I told him to come with me to the school, being very happy he innocently asked, "Am I going there to read".
I replied, "Not actually little one." "Then, why are we going there?" he asked.
We reached my school. I made the beggar sit down on the floor, by our school. Without any demur, he sat there. I gave him the shoe polish & brush and told him,
"Every day many children pass by this way for school and some of them don't have their shoes polished. If you polish their shoes you will certainly get some money. But, please don't use this money. Keep it in my piggy bag. I will manage money for you".
He said, "Sister I am really grateful for you. In my whole life I haven't seen any one like you"
I then replied, "It is the duty of every being to help each other in difficulty and always remember you are like my own brother."
Every day, I used to go to the beggar to polish my shoes and my brother's too, so that he could add that money to his piggy account. I also used to save my pocket money to give him for his livelihood and even requested my friends to help him with some money. I also used to give my brother's old clothes. Soon, it was time for a new Academic Year. I went to the little beggar and I asked him to give all the money that he had earned through his hard work. He gave it to me and I registered him at my school. I also gave him my brother's old uniform. That day, he came to school with us with a small satchel at his back.
Every day he used to polish shoes in the morning and when all the students had entered the school, he would pick up his satchel and go to his class. Many times, I found him being insulted by his friends saying, "Hey! Cobbler." But I used to scold them to manage their language. I also advised him, "Don't take this matter seriously. Just focus and concentrate on your duty. Time will teach them to behave well."
Days passed, he successfully appeared for the exams. The results of his hard work were published. His name was at the top of the result sheet. Soon he received a scholarship.
He was able to save his father from 'cholera', a serious illness, by the use of education that he had gained. I was also able to get great inspiration from him. Finally, after some years, he was able to open a small shoe shop and it grew into a big business empire where his employees polished, mended and made shoes. It was only possible because of the education that he had gained from school.