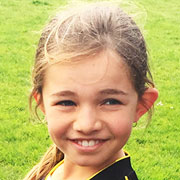 "The dancing willow tree"
by
Finn Gilbert Keene,
is the
Highly Commended
story in the sub-junior category of the second biannual
Short Story Contest 2016.
The dancing willow tree
I heard the creak of the wooden floorboards as I walked down the steps of our house. Our house was a small one. It was mostly made out of wood. It stood by a peaceful river. But the willow tree on the other side of the river, I loved best of all. I used to call it a dancing ballerina because when its branches swayed from side to side it looked as if it was dancing. Me and Papa go to the willow tree all the time. Sometimes I go by myself.
One day, I came back from school and I found Papa sitting by the willow tree crying. My bag fell as I ran across the bridge. "What's wrong Papa" I shouted in terror. "Mama, she fell" he said behind a curtain of tears.
"Is she gone?" .My head ached, my throat hurt and my eyes were pools of water. I couldn't hold back the tears, they came like a waterfall. Papa leaned out to hug me I pushed him away. "I'm sorry darling… she's gone". My heart stopped, I couldn't breathe, I couldn't speak… so I ran. Where to? I didn't know.
I felt the grass caress my feet as I ran through the forest. The cool breeze brushing my cheeks. I hurtled over tree stumps and then came to a halt. I stared up through the arms of a tree and I climbed. I climbed to the top. From there, I could see the waterfall and the rest of the world.
I sat at the top of the tree and gazed at the sunset. I felt her warm arms hugging me like a baby, I saw her vast blue eyes watching over me like a hawk, I heard her sweet laugh drifting through the air, every little perfection of her hugging me like a blanket.
"Good bye Mama, my dancing ballerina"