Children's Books » Fun In Devlok: Saraswati's Secret River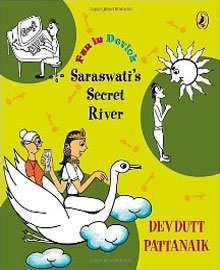 Fun In Devlok: Saraswati's Secret River
Fun in Devlok is a series of interesting stories for kids. Saraswati's Secret River is one of the amazing stories from this series, written by Devdutt Pattanaik. It is about the missing River Saraswathi and beautifully connects it with the missing elements of the current education system.
Synopsis:
Goddess Saraswati is the lord of education who bestows the people with excellence in education. The river Saraswati was missing and it was another form, who flows as a river. The place she flows as a river located in the region where Madame Mira High School was located. However, nobody ever remember about the flow of a river named Saraswati in that region.
The Goddess was searching her river and used to wander in the region where the school is located. One day, the school principal found the goddess wandering nearby her school. Goddess told the principal that she was searching for her missing river and also took the principal with her in her swan to find the river.
The journey to find the river began and went beautifully, which enlightened the principal. She learned that the river Saraswati has been missing from her region because the students were no longer interested to take initiative. Also, the principal was able to identify the wrong concepts and practices that had been the part of the education.
Was the principal able to find the right solutions to bring the lost interest back in her students and make the river Saraswati flow again?
Read the story!
Nice concept. Images are less and it would be a little bit difficult for the newbie to visualize. However, the story is written in a simple language, easily understandable, clear and bold.
It is a well written theme that effortlessly highlights the wrong concepts of the education.