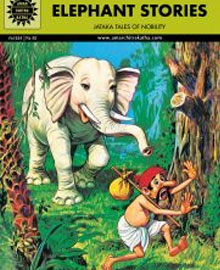 Elephant Stories
There was an animal in the world that is just loved unanimously by everyone all over the world. It is called ELEPHANT. Elephants are fascinating! We won't get bored watching an elephant! How awesome it would be indulging in reading elephant stories?
Elephant Stories, written by the famous children short story writer, Lakshmi Lal is one of the amazing collections of stories from Jataka Tales. Jataka Tales is a collection of tales that talks about the Buddha and his previous births.
Summary:
'Elephant Stories' is a collection of three tales. Buddha as an elephant is the hero in all the stories.
The first story is about a friendly elephant who aids a traveler who lost his way in jungle. The elephant helps him to find the way to his city and also provide him his tusk, so that he can earn money by sealing it.
The second story is a small incident where a tiny quail is saved by the mammoth elephant, which is narrated beautifully.
The third story is about helping aid of the elephant to the wood workers that help the workers in moving the heavy wood.
This series highlights about the chronicles of the previous birth of Buddha, which demonstrates the virtue of knowledge, kindness, and love for nature. He appears as an elephant. The stories not only enlighten the readers, but also inculcate new habits, morals, and values.
Helping hand is better than praying mouths! The story is narrated in a simple language, easy to understand.