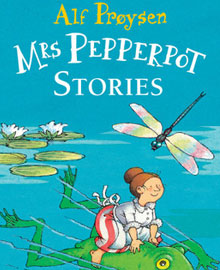 Mrs Pepperpot Stories
A classic collection three tales of a lovable lady Mrs. Pepperpot!
Mrs. Pepperpot is one of the best loved and warming characters forever! The book has three stories of revolving around the life of Mrs. Pepperpot.
She has been a superwoman and heroine of the children's literature. Life is not very easy for Mrs Pepperpot. She never knew what life has for her in the next moment. She never knew what would be her size in the next moment. Changing and shrinking into a size of a Pepperpot provided her some extremely hilarious moments and results!
Mrs Pepperpot is a classic story, where this feisty character appeared first time in the year 1950. As decades pass, Alf Proysen's ever-loved character regenerated with a new life in new edition.
Narrated beautifully with funny moments of extreme imagination, Mrs. Pepperpot will steal the heart and mind of the readers. Mrs. Pepperpot stories have been translated into many languages.
This is quite a large book with more than 700 pages. Children may not carry an interest to read such a huge book. Also, this is not a book for short story lovers. However, those voracious little ones may fall for the Mrs Pepperpot!
This is an entertaining collection of tales.
Buy Story Book - Mrs. Pepperpot Stories (Red Fox younger fiction)