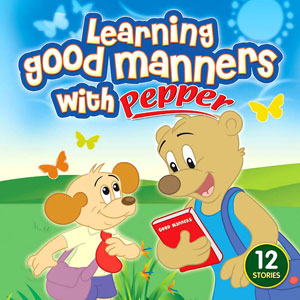 Learning Good Manners with Pepper
There are quite a few themed collections of stories, rhymes and videos are designed for kids. Learning politeness with Pepper is one such themed collection of educational books for children.
Learning good manners from Pepper is a part of Pepper collections for kids. Pepper is a cute little dog. This book is a collection of stories that are scripted in a simple way.
The book has 12 stories. Each story contains a moral and a message that helps children to learn good manners. Although the stories are very simply put, they are very amazing!
Keeping up promise is an important aspect. Many fail to keep up their promise. Promise to finish the homework on time or promise to study well, etc are often overlooked. How to keep up promise and how important is to keep up the promise is beautifully executed as one of the good manners in this book.
Putting the blame on others is a shame! The little pepper nicely explained how to take the blame politely in an interesting way.
All stories are dotted with good manners, which are just beyond basic manners like washing hands, bathing, etc. The book comes with hardcover, which carries a longer life. There are 152 pages.
Also, mommies can use pepper stories as bed time stories, which teaches good manners as well as put them sleep!
Best buy!