Learn Science » Science experiments for kids and adults
Science experiments for kids and adults
Science is always fascinating. When complex scientific concepts show up as fun experiments, science thrills and excites us. The following experiments will show you how science works all around us, in fascinating ways.
BUILD A SOAP-POWERED BOAT
Things you need:
A piece of cardboard (non-corrugated)
A large tray full of water
A toothpick
Liquid dish soap
Instructions:
Cut the cardboard into the shape of a boat, as shown here. Make it about two inches long.

Apply some liquid soap at the tip of the tooth pick.
Use the toothpick to put soap on the sides of the notch that you have cut at the back of the boat.

Place the boat carefully on the surface of the water. It will shoot across the water for a few seconds.

Image courtesy: sciencebob.com
The science behind
Soap is a surfactant, which means that it can break down the surface tension of the water. When the surface tension is broken up, enough force is created to push the lightweight boat across the water surface.
You can try this experiment with warm water instead of cold water. You can also try different material for the boat, and see which one works best. Also, why don't you use a solid piece of soap, instead of liquid soap, and see if it has the same effect?
MAKE YOUR OWN BOUNCY BALL
Things you need:
Cornstarch
Borax
Glue
Food colouring
Lukewarm water
A heavy spoon (it should not bend easily.)
Measuring spoons
Two plastic containers
Instructions:
Add two tablespoons of lukewarm water to one of the empty plastic containers.
Take half teaspoon of borax and add to the water.
Stir the mixture until the borax dissolves completely.
Add the food coloring of your choice. A few drops should do.
Now, take one tablespoon of glue and put it into the second plastic container.

Add the prepared borax and water solution to the glue.
Add one tablespoon of cornstarch also to the glue.
Wait 20 to 30 seconds.
Begin stirring the mixture, mixing all the ingredients completely. When the mixture gets too hard to stir, take it out of the plastic container, and knead it with your hands.
Shape the mixture into a ball.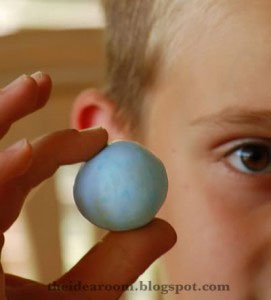 Now you have made your own ball. It will be a little sticky at first, but will soon harden as it dries. When it is completely dry, it should bounce.
The science behind
The borax links the polymer molecules in the glue, thus creating chains of molecules that stay together. The cornstarch's role is to bind the molecules together, so that they stay in a particular shape.
You can experiment with different amounts of borax, glue and cornstarch, to see which combination can result in a ball with the maximum bounce!
Have fun with science!
Image courtesy: sciencebob.com