Kids Poems » A Christmas Poem for Santa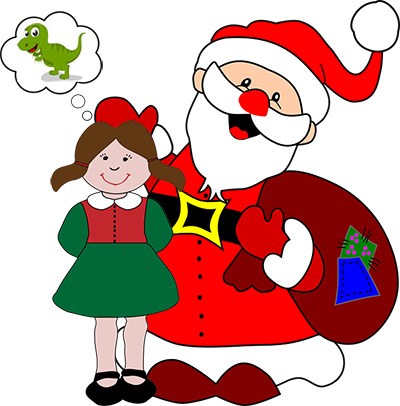 A Christmas Poem for Santa
Santa! I would like a Dinosaur for Christmas
Just one Dino would do
Don't want any doll or jingling bells
Make it a tall and mighty one too!
I want an Argentinosaurus,
For a jolly ride on the snow,
A Stegosaurus, and a Spinosaurus,
High up on a Dino's brow!
Santa dear, don't come in through
Dirty chimney chutes;
Just bring her through
Up the front doors.
Oh! How I love to have
a Dinosaur for Christmas!
I would be brave
As little drummer boys!
No rhinoceroses, no hippopotamus,
I only like dinosaurs;
No giraffes, no salamanders,
For I love dinosaurs!
Mum says a Dino would gobble me up,
But papa says I am a little elf,
And dinos don't eat elves up,
Never heard of it in a year and half.
So let us build the Christmas crib
Right between my dino's legs,
And his belly be the roof of the crib
And the Christmas tree be his tail hairs!
Oh! What a wonderful Christmas!
I'd hang a star by his ear,
Me and my dinosaurs!
My joy I can't bear!
When the little drummer boy,
The three kings and the star,
The sheep and the shepherd boy,
Angels revelling from afar.
Oh! What a wonderful Christmas,
For my Dinosaur and myself,
What a joyful Christmas,
For my soul! Myself!