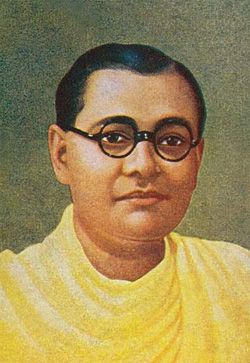 Subash Chandra Bose
Bose was born as ninth child of his parents and he had fourteen siblings. He was born in a traditional and well-educated family.
He was bright and studious boy in his school days. He simply excelled in the academics and gradated First Class each time.
Since his father was a strict disciplinarian, Bose and his siblings were raised as responsible children.
He had his school education in Protestant European School. Owing to his academic performance and intelligence, he scored second rank in his matriculation exam. He joined Presidency College to pursue his bachelor's degree, where the real nationalist in him emerged. He was expelled from the college for assaulting a professor who made anti-India comments.
Soon after he joined the Scottish Church College and graduated with first class in Philosophy. The little genius, grown up into a brilliant young man. In order to obey Bose's father wish and fulfill his dream, Subash Chandra Bose went to England to pursue his higher education. In England, he appeared in Indian Civil Services Examination.
He appeared the examination and excelled with fourth rank in the order of merit. He was appointed as trainee immediately and started undergoing his training. It was in the year 1921, where the Jalianwala bagh massacre shattered him. He decided to return to India as he could not tolerate Indian's getting defeated. Even before completion of a year of training, he left the job, and returned to India.
He joined hands with Chittranjan Das, who was his mentor, a god father and a front runner in reforming the country. Subash Chandra Bose closely followed his footsteps and rose to fame as a supreme power.
He was arrested for more than 10 times under various grounds and occasions, still he never gave up his quench for Independent India.
Bose joined hands with Jawaharlal Nehru and became an indispensable part of Indian National Congress. He then formed the eminent force called Indian National Army, to battle against Britain.
It was the time when Bose had a disagreement with Mahatma Gandhi, as Gandhiji preferred non-violence, where Bose had opposite views.
While Bose was elected as the president of Indian National Congress, in spite of rift inside the Indian National Congress, he resigned from the post when Gandhiji forced him.
During his freedom struggle, he was badly attacked by Tuberculosis. Bose counted his last days in India and he flew to UK get the treatment. It was reported that Bose dead in a plane crash, while there are reports that Bose was seen in Russia and India after many years of Independence.
Bose had three children and never had time to spare for his children. He had a very promising career, which would have earned him a fortune, yet he scarified everything for the country.