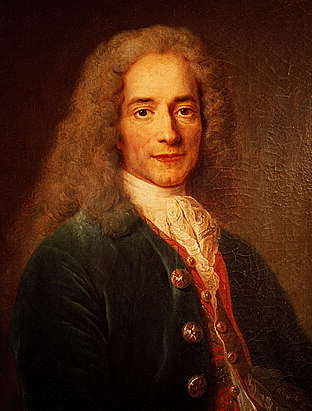 François-Marie Arouet (Voltaire)
François-Marie Arouet well known by his pen name Voltaire, was a French Enlightenment writer, philosopher, essayist, storyteller, historian, and dramatist. At the age of 16, he became a writer. In 1717, he wrote a witty verse mocking the royal authorities and for this act of bravery, he was imprisoned for 11 months in the Bastille (a fortress in Paris). In the prison, Voltaire began to mull over his parentage and his growing reputation. Coincidentally he had an access to a book on anagrams, which perhaps influenced his choice of the pen name.
François Marie Arouet (Voltaire) was born on November 21, 1694 in Paris to Marie-Marguerite Daumart and François Arouet. He was the fifth child of his parents, preceded by twin boys, a girl, and another boy who died young. His father, François Arouet was a lawyer and a treasurer who served in the notary; while his mother belonged to a noble family of the Poitou province. His family belonged to the upper-middle-class and lived a wealthy lifestyle in the posh neighborhood of Paris, and young Voltaire was able to obtain an excellent education.
When Voltaire turned 7 years old, his mother died, and he developed a strong bond with his godfather, who was a freethinker. An intelligent child, Voltaire received education by the Jesuits at the Collège Louis-le-Grand (1704–1711), where he learned Greek and Latin; demonstrated an amazing talent for poetry, and developed an interest in literature and theater. Later in life, he became fluent in English, Italian, and Spanish.
Upon completing his school education, Voltaire had decided to become a writer, against the wishes of his father, who wanted him to become a lawyer. However, Voltaire pretended to work as an assistant to a notary in Paris, dedicating much of his time to writing poetry, under the umbrage of a 72-year-old poet Abbé de Chaulieu. When Voltaire's father discovered his intentions, he sent him to Caen, Normandy to study Law. Yet, he continued to write and produced essays and historical studies. Voltaire's humor and intelligence won him admirers in the royal families with whom he socialized.
Upon successful completion of his studies, he became a secretary to the French ambassador in the Netherlands, and his father helped him get the job. It was here that he fell in love with a French refugee girl, named Catherine Olympe Dunoyer. However, his father opposed their marriage, and he had little choice but to return to France and work with a lawyer. Once again, he renewed his love for writing.
Eager to test his abilities against the great dramatists Sophocles and Pierre Corneille, Voltaire wrote the first draft of Oedipe in 1711. The play was revised and opened to the audience on November 18, 1718; it was a roaring success.
In In 1717 Voltaire was imprisoned in the Bastille, for writing humorous verse mocking the royal authorities. During his time in the prison, he began working on The Henriade- an epic poem (a long poem focused on a legendary hero), and published it in 1722. This brilliant piece of writing echoed his fight against extremism shown by the aristocracy and the Church, and he became the face of the French literature.
In 1726, Voltaire got into a brawl with a young French noble Chevalier de Rohan. He sought compensation and was even willing to settle it over a duel. However, the aristocratic Rohan family acquired a judgment signed by French King Louis XV that was used to imprison troublemakers. This judgment would have led to an indefinite imprisonment in the Bastille without a trial. Fearing his prison sentence, Voltaire requested for an alternate punishment; a request to be exiled to England, which the French judicial system accepted. This incident started Voltaire's attempts to reform the French judicial system.
From 1726 to 1728 Voltaire resided in Great Britain, where he was greatly influenced by the Britain's constitutional empire and the freedom to express speech and religion. His interest in English literature developed, especially in the works of Shakespeare.
Upon his return to Paris, Voltaire staged numerous failed dramas and the hugely popular Zaïre. In 1734, he published Philosophical Letters focused on the life of Swedish king Charles XII, a milestone in the history of Philosophy. These letters revealed, criticism for the government and religion, causing scandal, and forcing him again into exile. He took refuge in the palace of Madame du Châtelet (on the borders of Champagne and Lorraine), with whom he lived and traveled until her death in 1749.
In 1750, Prussian King Frederick the Great invited him to Berlin. After a quarrel with the king, he left the city and settled in Geneva, Switzerland in 1753. His strong opinions brought a turning point in his life in 1758. He purchased an estate at Ferney, France (on the Swiss border). Now, he was a celebrity in Europe, affluent and powerful people visited him to discuss his work.
On February 10, 1778, Voltaire returned to Paris to direct his play Irene. He fell ill suddenly and died on May 30, 1778.
Voltaire's most read work today is the Candide – a strongly anti-Romantic comic novel. His other works include Zadig (1747), The Century of Louis XIV (1751), Micromégas (1752), Essay on Morals (1756), The Russian Empire under Peter the Great (1759–63) and The Philosophical Dictionary (1764).
Image courtesy: philosophybasics.com