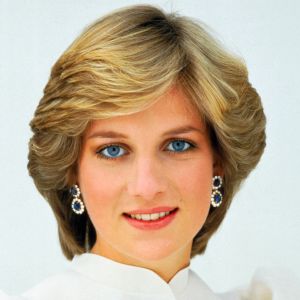 Diana, Princess of Wales
Lady Diana Frances Spencer married Charles, Prince of Wales in 1981 and became Princess of Wales. She retained her title and popularity after the royal marriage fell apart and the couple divorced in 1996. She was careful to acknowledge people's thoughts and feelings, and even revealed her wish of becoming a beloved figure among the people by saying in an interview taken in 1995 that she'd like to be a queen of people's hearts and secure a place in their hearts". Princess Diana is known as 'the people's princess' for her charitable work and close relation with the public. She died in a tragic car accident in 1997.
Lady Diana was born on the 1st of July, 1961. She was born into a high ranking and important British family in Norfolk, England. When Diana was born, her father, John Spencer, was a Viscount. He later inherited the title of Earl. Frances, her mother, came from a lineage with strong bonds to the royal family and Queen Elizabeth II. Diana grew up with her two older sisters, Sarah and Jane and a younger brother, Charles. During her time at school Diana excelled in athletics, music, and art at school. Working with the elderly and the disabled was one thing she held close to her heart. She loved to help others.
When Diana completed boarding school at the age of sixteen, she went to Switzerland to finishing school. This is a school where girls from high society families acquired the skill in cooking, dancing, and appearing at parties. Diana returned to England before finishing this school as she did not like it one bit. Diana did not want to just sit around attending parties and at the age of eighteen she took a job as an assistant teacher at a Kindergarten. She loved working with kids, so she further took jobs babysitting for her friends.
Diana had first met Prince Charles when she was sixteen years old. During their courtship that began three years Diana's life was never the same. Photographers and reporters followed her around around and waited outside her home. She couldn't go anywhere; she was always surrounded by photographers who wanted pictures of her. Diana remained calm and poised in the face of all the press and pressure of dating Prince Charles. Finally on the 6th of February, 1981 Prince Charles asked Lady Diana for her hand in marriage.
On July 29, 1981, the wedding took place at St. Paul's Cathedral in London.This Royal wedding was the event of the century, around 750 million people around the world watched the wedding on television.
Diana gave birth to a son on June 21, 1982. The baby prince was named William Arthur Philip Louis, heir to the throne, in line to become king of England. Two years later, Diana had another son, Prince Harry. The marriage of Princess Diana and Prince Charles fell apart soon. They had little in common and spent more time apart. The royal divorce was announced in 1992 by England's Prime Minister at the House of Commons and it was finalized in 1996.
During her marriage to Prince Charles and after, Princess Diana spent much of her energy and time in bringing attention to various charities. She would often visit sick children or battered women, thus being loved not only by the people of Britain but by the whole world. She was famous for her charitable and kind nature towards everybody.
Princess Diana spoke for groups like the Red Cross and AIDS foundations. She spoke out for the rights of the people and one of her major efforts was to outlaw the use of landmines in the battle field. She did so because landmines were often left long after a war was over and this caused deaths and injuries to innocent people including children who lived or travelled in these areas.
On August 31, 1997 Diana was killed in a car crash in Paris. This crash also took the life of the driver and Dodi Fayed - a friend who was travelling with her. One of her bodyguard's was seriously injured in the crash too. The car they were travelling in was being chased by paparazzi. News of her death shocked the world, Princess Diana's death was mourned by everyone and it is estimated that around 2.5 billion people from around the world watched her funeral on Television. She was lovingly called the "People's princess".
Diana had initially survived the crash but succumbed to her injuries at the hospital and only died a few hours later. French authorities investigated the crash and the driver was found to have a high level of alcohol in his system at the time of the accident. The role of the pursuing photographers in the tragedy was also scrutinized. Princess Diana's body was later buried at her family's estate, Althorp.
In 2007, on the tenth anniversary of Princess Diana's death Prince William and Harry honored their deceased mother with a special concert on what would have been her 46th birthday. The collections of the event went to charities supported by Diana and her sons. Continuing her charitable efforts is the Diana, Princess of Wales Memorial Fund. Established after her death, the fund provides grants to numerous organizations and supports initiatives to provide care to the sick in Africa, help refugees, and stop the use of landmines.