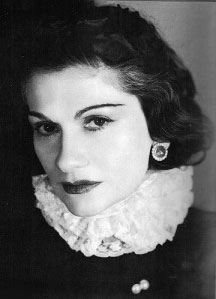 Coco Chanel
Coco Chanel was born on 19 August, 1883. Her mother, Eugénie Jeanne Devolle, had not married when she had her and her father, Albert Chanel, was a street vendor who sold work clothes and inner wears for a living. She was named Gabrielle Bonheur Chanel, in Saumur, France. She got her nickname Coco only many years later, when she presented herself as a cabaret singer in 1905, Moulins. One of the songs she sang at the pavilion was 'Qui qu'a vu Coco', thus earning her the famous name, Coco. Chanel struggled through poverty during her childhood. But despite the odds, she worked hard in making a name for herself and is known today as one of the most distinguished French fashion designers. She established the fashion brand 'Chanel' and was the first person to look at fashion in both ways, classic and casual. Chanel designed timeless classics and set a high classic example for the fashion upcoming designers.
Her fashion sense was extraordinary and it was not limited to couture clothing, she created her own name in handbags, perfumes and jewellery. Chanel was a determined and hardworking woman whose ambition and effort reflected greatly in her works. She was an outstanding fashion and style icon and can only be described in her own word, 'Fashion fades, only style remains'.
Following her mother's death, when Chanel was 12, she and her sisters were sent away by her father to the convent of Aubazine in Central France. She fled this convent as it was a demanding place and she struggled to fit into the system. She joined at a boarding house for Catholic girls in Moulins. In the six years that she spent at Aubazine, she had to do a lot of sewing work. This skill earned her a job as a seamstress.
It was Captain Arthur Edward Capel, who was instrumental in helping Chanel set-up her first shop and being a well-dressed man himself, Capel creation of the Chanel look.
Chanel's business realm flourished in time and by 1935 she had employed four thousand workers under her. But her business dipped during the late 1930s and Chanel was forced to close her shops with cut throat competition from other designers such as, Elsa Schiaparelli who was beginning to make their mark in the industry. The commencing of World War II also played a role in this.
Chanel was accused of being a Nazi spy during the World War. She left to Switzerland in 1945 after the war ended, and only returned to Paris in 1954. The same year she reopened her couture house in Paris, but her new collection was not accepted well by the people as the taint of being accused as a Nazi spy still followed her. However, her collections were a great hit among the British and the Americans.
Chanel's signature perfume 'Chanel 5' was well received and is an iconic product in the perfume industry. It is fancied by most huge celebrities and among common people as well.
Chanel's trademark is the legendary concept of the little black dress. It is considered as Chanel's contribution to the fashion glossary. The famous 'Chanel suit', for women, encouraged women to pursue their work attires and professionalism in style. Chanel had a great love for pockets and she thought that there weren't enough pockets in women's clothes. Her designs in clothes and accessories have plenty of pockets even to this day.
Chanel is the only fashion designer who holds the place in the list of the 100 most influential people of the 20th century, by Time Magazine. She was also a major trendsetter of her time; sun tanning became a fashion trend when Chanel accidentally tanned herself during a cruise holiday and returned to France with sunburn. The public was quickly taken by the look and followed it as a fashion statement.
Chanel was one of the first designers of her time to use celebrities to advertise her products. She promoted her perfumes, fashion line and handbags with photographs of famous celebrities wearing them.