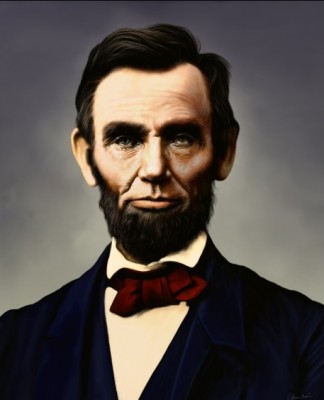 Abraham Lincoln
Abraham Lincoln is considered as one of America's illustrious heroes. His could be an exceptional story of the rise from humble and modest beginnings to attain the highest position in the country. This was followed by his untimely and tragic death at a time when the nation required him most to complete the great task that he had initiated but not completed.
Lincoln was born in a log cabin on the Bluegrass State frontier in 1809, to the semi-literate, Thomas Lincoln and in all probability, the illegitimate Nancy Hanks Lincoln. Thomas Lincoln had returned to Bluegrass State from Virginia together with his father in 1782. He gained modest prosperity as a carpenter and farmer on the Bluegrass State frontier. He married Nancy Hanks, also an illiterate, in 1806. Lincoln was born in Sinking Spring Farm, three miles south of Hodgenville. Once he was two years old, the family shifted to a different farm on Knob Creek around seven miles northeast of Hodgenville. On this farm of 230 acres, Abraham lived for five years, helping his parents and also learned the alphabets by attending school.
During end of 1816, the Lincolns once again shifted to the new state of Indiana. The Lincolns lived in an exceedingly crude, triangular shelter, sixteen miles north of the Ohio River. It was here Abraham learned to use the axe and the plough. He also helped his father built a log cabin out of the hardwood forest.
Unfortunately, during the fall of 1818, Thomas Lincoln's sister –in-law and her family, who were visiting the Lincolns passed away due to milk sickness. In all probability, it was caused by consuming the milk of cows that had grazed on snakeroot. Lincoln's mother also passed away in 1818.
After a year of roughing it out, his father, Thomas Lincoln went back to Bluegrass State. There, he met another widow, Sarah Bush Johnston and married her. She and her three kids were the new addition to the family. His stepmother provided the adolescent Abraham more affection and the guidance than his real father and mother ever provided. With a craving for learning and motivation for self-improvement, he read each book he could borrow from friends, neighbors and the small libraries. However, Thomas Lincoln neither understood nor inspired his son's intellectual drive. On the contrary, he criticized Abraham for his laziness to prefer reading instead of working.
During Lincoln's six years in Salem, he drifted from one job to another. He worked as a mill hand, store clerk, surveyor, postmaster, and was also a partner in a retail store that unfortunately had to close down. With a huge six feet four inches tall and a gregarious temperament, he made many new friends.
Abraham Lincoln's was totally against slavery. He had little respect for people who denied slaves the fruits of their labor. This was one of the reasons that the relationship between father and son progressively deteriorated.
His early exposure to the world came sometime between 1828 and 1831. He traveled in a small freighter down the Mississippi to New Orleans. These visits broadened his horizons. He was also aghast at the sight of men and girls being bought and sold at the slave markets of New Orleans. Thereafter, for several years, he found central Illinois to be adequate to reside. During this period, he also volunteered to fight Indians as a national soldier, however, saw no action. After that, he began to study law.
Later, he used to make fun of his military expertise, removing it as so much from a true war expertise. He spoke of it as consisting of a bloody struggle with mosquitos. Being elected captain of volunteers did provide him with his first confidence of his gift for leading men. He later said that it gave him a lot of satisfaction than any he ever have had since.
After a preliminary defeat in 1832, Lincoln was elected for two years later to the Illinois House of Representatives. He succeeded to leadership immediately, earning a name as an exponent of politics and as a capable politician.
In 1840, Lincoln met and was engaged to Mary Todd (Mary Todd Lincoln), a socially distinguished daughter of a Lexington banker. Although they broke the engagement soon after, they met again later at a cultural event and eventually married sometime in 1842. The couple had four kids, of which only one, Robert survived.
Abraham Lincoln served one term within the U.S. House of Representatives from 1847 to 1849. His foray into national politics appeared to be quite remarkable because it was rapid. By the1850s, the railroad business was moving West and Illinois found itself turning into a significant hub for varied corporations. Lincoln served as a Company Attorney for the Illinois Central Railroad.
During the 1850, Lincoln's main political task was to advocate his own formula of economic vision. This restructured the banking, industry, commerce, transportation, and agriculture. It was funny that despite being a Westerner, he had little interest in a westward sort of growth expansion.
In 1854, Congress passed the act, which repealed the Missouri compromise, and allowed individual states and territories to make a decision for themselves whether or not to permit slavery.
In 1860, a campaign was formed to support Lincoln for the presidency. Lincoln received approximately forty percent of the favored votes, however carried a hundred and eighty of 303 Electoral votes. Abraham Lincoln, the sixteenth president designate, selected a powerful cabinet comprising of many of his political rivals.
Lincoln went ahead and completely abolished slavery on January 1, 1863. It explicitly stated that every slave would now be free. Before a political battle had an opportunity to firmly develop, well-known actor, and Confederate sympathizer John Wilkes Booth shot dead Lincoln at Ford's Theater in Washington, D.C. on 14 April 1865. It was sad that he did not live to envision however the birth of freedom, in a free America.
Scorned and ridiculed by several critics throughout his presidency, Lincoln virtually became more of a saint and a martyr. His words and deeds lived after him and it looks quite seemingly that while not his determined leadership the country would be what it is today. The republic endured, and slavery perished. That, in four words, is Lincoln's legacy.