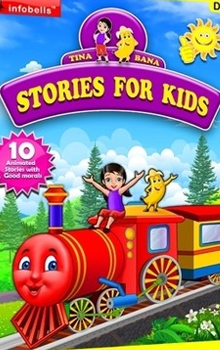 Review of Stories for Kids – DVD Movies
The colorful collection of animated stories featured with the theme, Tina and Bana!
The latest buzz about stories for kids is themed stories! This story collection from Infobells Interactive Solutions is themed collection.
Tina is a cute little girl, and Bana of course, a nice banana! The stories are put together nicely with morals for children. Tina and Bana take an adventure tour to explore different elements travelling in a train.
The DVD has 10 stories with different morals and values. It is a good collection that teaches and inculcates value for kids. The stories are interesting to watch, and easily scripted as children will learn the good values easily. Another positive element – The DVD comes with subtitles!
This DVD stories for kids is unique in a couple of elements.
1) The stories are nicely scripted and executed in a different way that many of us never expect.
2) It not just entertains the kids, but also makes the adults tied to their seats.
The stories come in two languages, English and Tamil. It would be nice if the stories are translated in other languages too!
Negative aspects?! Probably nothing, better if there were more stories!
Children are taken into a colorful world! Suitable for kids aged above 4 + years.