Learning Videos » Action Words for Pre-School Kids - Educational DVDs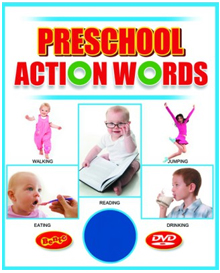 Review of Action Words for Pre-School - Educational DVDs
The world of preschoolers is a bit different, unique and entirely colorful! It is the good phase to lay a strong foundation to the basics. This DVD is about learning the simple action words the busy preschoolers.
Just imagine, what would happen if we just don't have any verb? If there is no verb, communication is utterly impossible. Verbs, nothing but the action words are just everywhere!
Drinking, sleeping, walking, hearing songs, playing, crying, eating and a lot more… They are simple words and a part of our daily lives. In addition, kids will love to learn new things exhibited in a different way.
This DVD video provides a learning path through various actions, finger rhymes, etc. The video contains simple action words like singing, walking, bathing etc and less common action words like floating, diving, etc. The words are expressed by different characters in different emotional levels, in different voices and expressions to let the child understand the meaning and concept easily.
Letting the child learn the concept of action words means providing them a way to understand the concept of words more simple.
Learning these simple action words in an easy way provides the good base for education.