Learning Videos » Kids Educational Set 1 (Set of 5 DVD's)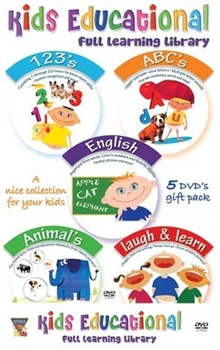 Review of Kids Educational Set 1 (Set of 5 DVD's)
Kids Educational Set 1 consists of 5 DVDs. The DVD combo is divided into five categories.
This is a video series of 5 discs that introduces a new and amazing way of learning to the children. Kids who probably enter into the world of education and learning will find this series interesting, comfortable and entertaining. The colorful picturisation of various elements from numbers to objects makes learning an interesting one. In addition to mere learning, the video series introduces kids to identify and implement the numbers in their life, simply, practical application.
Basic Mathematics: It consists of learning numbers from 1 to 20, how to recognize numbers, introduction to basic mathematics, etc.
Alphabets: Lower and Upper case letters, sounds of multiple letters, fun words, simple ways to build vocabulary, etc.
Beginner's English: Important words, simple phrases, colors, objects, etc.
Animals and Birds: Fun, interesting and amazing facts about animals, wild animals, farm animals, birds, insects, etc. This DVD probably attracts the children more!
Learn with fun: Knowing various shapes, colors, sizes, movable and immovable objects, wonders, etc.
The DVDs covers maximum part of basic education for kids. On the negative part, the cost of the DVDs may be a bit high comparing to the abundant availability of the kids learning discs at cheaper prices. However, this is worth buying as besides the basic mathematics and English, children could also develop their cognitive skills, practical application of what they learn and develops general knowledge.
Buy Kids Educational Set - 1
(Set of 5 DVDs- 123's/Abc's/English/Animals/Laugh & Learn)