Learning Videos » All Time Favorite Pre-School Rhymes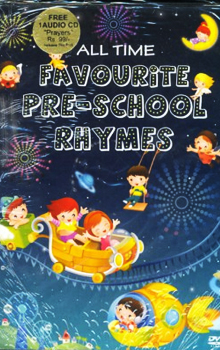 Review of All Time Favorite Pre-School Rhymes
There are many ways to make the kids' time more interesting and educational. Besides making them play with educational toys, playing them video rhymes is a good option.
Teaching your kids some all-time favorite rhymes is a great way to impart knowledge with fun Kids and rhymes are inseparable. Rhymes make the childhood of the children more colorful and entertaining. It is just good when your child you sing a few basic rhymes when they are enrolled in a school.
There are few eternally beautiful rhymes that will never fade away over time. To name a few, Twinkle Twinkle Little Star, London Bridge, Mary Had a Little Lamb, Jingle Bells, Baa Baa Black Sheep, etc.
This DVD runs for around one and a half an hour. It is a complete package of good old fun filled rhymes. There are totally 59 rhymes with clear audio and video. Cute little characters, colorful picturisation, appropriate voice and music, etc entertains the children.
If you are planning to teach your pre-schooler rhymes, you can create a beautiful Rhyme-Time with this DVD.
There are plenty of preschool rhymes available in DVD format. This is the classic collection of evergreen rhymes for children.